April 2011

TIDAL exhibited at the "Premium HiFi-Show 2011" in Moscow / Russia


Our setup included the recently awarded TIDAL Piano Cera, driven partly active by the TIDAL LPX, the TIDAL Preos, two TIDAL Impact stereo amplifiers and two turntables. 
The TIDAL room was rated one of the greatest highlights of the show by press and visitors.
January 2011

TIDAL was exhibiting at the CES 2011 in Las Vegas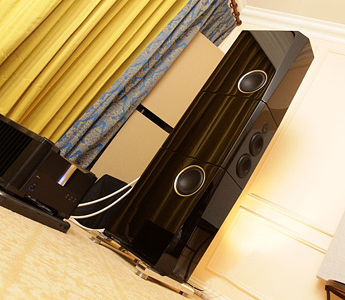 "Germany's TIDAL Audio proudly displayed the Sunray loudspeaker, an assault on the state of the art. 
The TIDAL Sunrays are simply beautiful-sounding loudspeakers. 

I heard two pairs of Sunrays at CES 2011 (they were playing in two different rooms), and their strong points were clear: holographic soundstaging, three-dimensional imaging, and seductive musical subtlety, particularly in the high frequencies.
I was struck by how much depth-of-stage they could reproduce; they made me want to get out of my seat to mingle with the performers."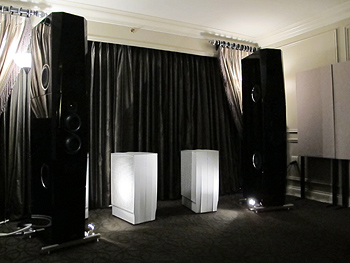 "..."Go check out the Constellation Audio room," said Jon Iverson. So I did. As I entered the room filled with unworldly looking gear I spied Michael Fremer, engrossed in one of his famous mix CDs, burned from his vast vinyl collection. Michael, ever the gentleman, relinquished the sweet spot to me and both of us took in some big, clean, transparent sound. Driving a pair of TIDAL speakers was Constellation's Hercules amplifiers, which are each able to put out a kilowatt of juice into 8 ohms and runs its first 250W in class-A.
Internally the amps mechanically float the sensitive signal carrying parts. That attention to vibration damping could be heard as stillness and ease, particularly when I played a high-resolution file of Robert Silverman playing the final fugue from Brahms' Variations on a Theme by Handel. My time in the Constellation room was stellar."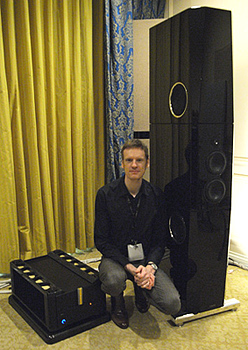 "In prior Show reports, we have photographed TIDAL's Jörn Janczak standing next to his speakers. But as Jörn stands 6' 8' in his socks, I made him crouch by the Sunray. So you can get an idea of how big this bi-amped speaker really is. 
As at the 2010 CES, the rest of the system included two BAlabo 500Wpc stereo amps, and the BAlabo BD-1 24/192 DAC. Preamp was the BAlabo BC1 and the source was the Blue Smoke music server. Cabling was by Argento. 

I listened to a recording that many were playing at CES, piano/bass/drums jazz from the German Tingvall Trio, and was impressed by the effortless sweep of full-range sound produced by this admittedly very expensive system. "
January 2011

The Audio Beat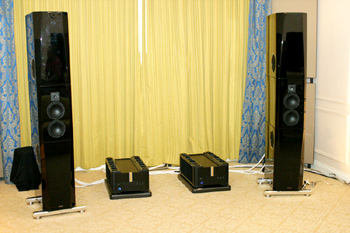 "Next we walked across the hall to hear the TIDAL Sunray. Electronics were from BAlabo -- I'd never heard them before. 
Again, we were treated to a sonic presentation that was fully the equal in quality of the two previous rooms, with bass that was deep, powerful and tight, a midrange that was palpable, and a top end that was clear and delicate."
"In some ways, the TIDAL line of speakers looks quite conventional and some of the materials they use may seem common. 
But when you hear TIDAL speakers, you know there's far more going on under the surface than might be obvious to casual onlookers. TIDAL Audio's founder and chief designer, Jörn Janczak, worked in Germany operating CNC machines before starting TIDAL, and the precision involved in that type of work is certainly evident in the loudspeaker company he helms today. 

TIDAL's speakers are built solidly and finished impeccably, particularly the piano-gloss finish that Janczak feels is the very best in the world. But their beauty isn't only skin deep. Some of the inner workings, especially the crossover technology, might be not only unique but also groundbreaking.
January 2011

Top performing system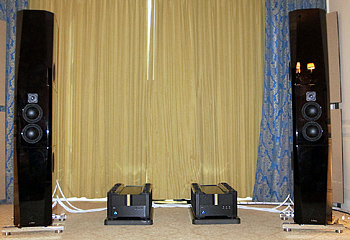 "The TIDAL Sunray (including the active x-over "TIDAL LPX" and internal passive pure silver foil crossover) and BA Labo electronics were another top performing system. Used in this rig were the BA Labo DAC BD-1, Control Amp BC-1, and Power Amp BP-1 MkII. The Sunray is an amazingly controlled speaker for its vast size and in a smaller environment.
I enjoyed both the Constellation and BA Labo electronics with the Sunray, but both systems were extremely pleasing. The Sunray was one of my top three large floor standing speakers at both shows.
January 2011

Best Sound of Show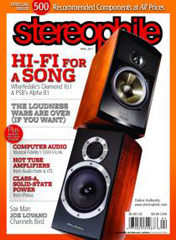 Michael Fremer from Stereophile magazin voted the TIDAL Sunray as "Best Sound of Show" at the CES 2011 (listed in no particular order with 4 another fine setup's), in both setup's we showed: with BALabo and with Constellation.

Please feel free to read more about his show report of the 2011 CES in the April issue 2011 of Stereophile.