December 2012

TIDAL Presencio and the TIDAL Impulse amps are beeing reviewed in AUDIO ART Magazine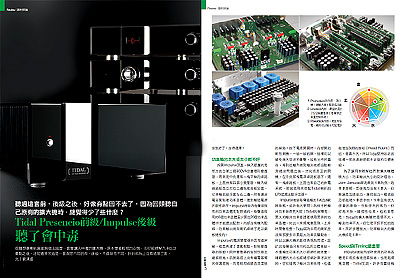 And again ;-): the amps were tested in 20 different aspects and was getting in each aspect the highest possible rating and therefore received the top notch ranking of all 100 of 100 points. 
Conclusion: "This set of amplifiers does poisoning people". The complete 8 pages review will be translated soon.
November 2012

TIDAL Agoria and Contriva Diacera was displayed at audio shows in Japan, France, Russia, Taiwan and Belgium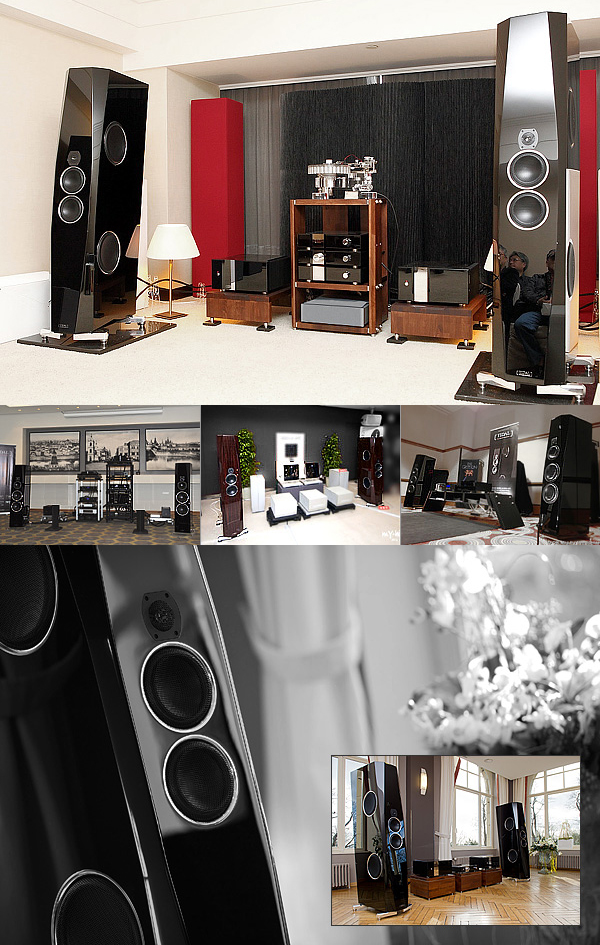 The TIDAL Agoria, Contriva Diacera, Preos-D, Presencio and Impulse LPX were exhibited right at five audio shows worldwide. The feedback was more then one time a clear "Best Sound / Design / Finish of Show".
A very big 'Thank you very much' for all visitors taking the time to discover and enjoy TIDAL in Tokyo, Paris, Moscow, Kao-Hsiungand Namur.
October 2012

TIDAL Sunray reviewed from U-Audio.com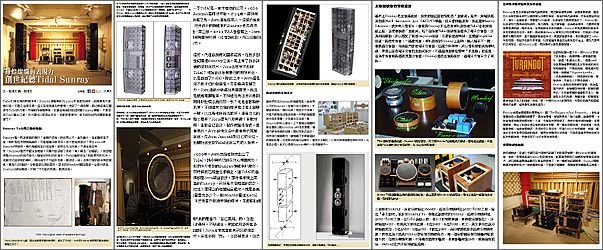 "Through time and space, the ability to hear genuine music of every era will convey the value of our Sunrays. While the Sunray may be considered costly by some, their ability to truthfully and accurately reproduce album and nuances in the musical atmosphere, in your personal space, has greater value than mere money can measure. Take a trip and listen – the brilliant musical expression of the Sunrays will impress and transport you, through time and space, with music that touches you. The Sunray is truly priceless."

Link: http://review.u-audio.com.tw
September 2012

TIDAL Sunray is beeing reviewed in AUDIO ART Magazine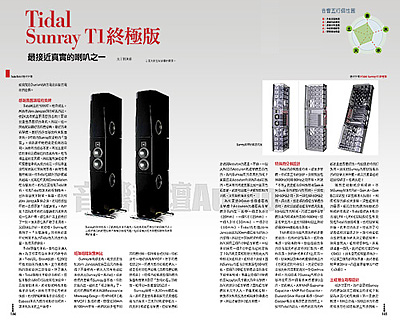 "The speaker most close to real"

TIDAL's almost 10 years young flagship "Sunray" is still, or even especially because of that, good enough to get the highest of all praise in a review of Audio Art Magazine Taiwan. 
The Sunray was tested in 20 different aspects and was getting in each aspect the highest possible rating and therefore received the top notch ranking of all 100 of 100 points, "top of the tops".
The whole review is being translated soon, here are some highlights:
The rigidity of the matrix enclosure is beyond imagination... / ...low frequency adjustments provide substantial aid... / ...most stunning bass performance... / ...unrivalled piano lower notes... / ...music is full of vitality... / ...the stage is palpable like life... / ...a loudspeaker that comes closest to live performances!
September 2012

TIDAL Contriva is being reviewed in Stereo Sound Magazine Japan


The headline: 
"My best hobby is TIDAL"

The conclusion in short words is:
"Rich sound fascinates you, the sound is open and wide. Spectacular performance."

The whole review will be translated soon.
August 2012

TIDAL at the TAA Audio Show in Taiwan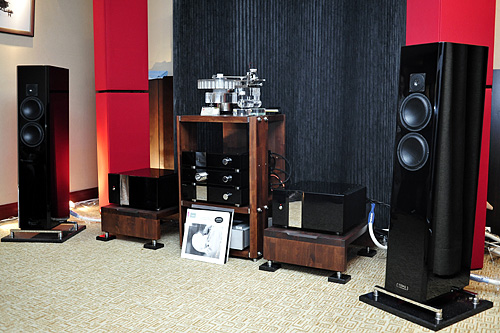 TIDAL's exclusive importer, Avent Garden Records, premiered at the TAA show the Piano Diacera, Impulse power amps and Presencio preamp a classical analog chain, driven by a SPJ turntable. It was voted from most visitors as the most musical and realistic sounding systems, "Best Sound of Show".
Other than playing all the time the same boring "audiophile" music pieces everybody does demo's with, Avent Garden Records demonstrated an extremly wide range of different kind of music styles to focus on what this is all about.
Jörn Janczak visited afterwards the new dealers and welcomed them to the TIDAL family personally.
July 2012

Audio Fest 2012 – Confessions of a Part-Time Audiophile.com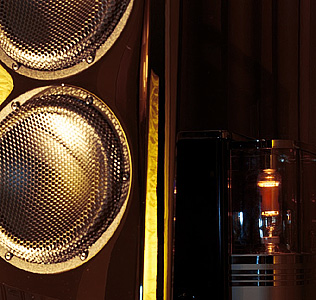 "This is "I'm done" gear. No more fussing. No more arguing. No more questioning. Done. This is smug, smack the Internet trolls in the face and chortle all the way, done. Finished.
The sound in this room, to me, was clearly the best at the show. 
It wasn't even close. Other rooms had different approaches, and featured different balances of the things I cherish. But for overall elegance, grace, charm and a natural effortlessness that is, literally, shocking when you first enter the room, this was it. Skadoosh."

Please feel free to read the whole report about the Contriva Diacera:
http://parttimeaudiophile.com/2012/08/03/caf12-the-voice-that-is-presents-TIDAL-dcs-aurender-argento

And about the Piano Diacera:
http://parttimeaudiophile.com/2012/08/10/caf12-the-voice-that-is-presents-TIDAL-audio-audio-power-labs-purity-audio-dcs-aurender-pad/
July 2012

Audio Fest 2012 – Stereophile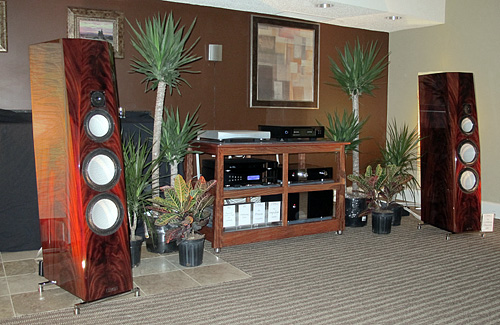 "There, in a system featuring TIDAL Contriva Diacera SE speakers driven by TIDAL Impulse solid-state amplifiers, a TIDAL Preos full-function preamp via Argento Flow and Flowmaster Reference cables, with source an Aurender S-10 music server and a dCS Debussy DAC. I heard a presentation more in line with what I expect from a high-end audio system: an even balance from the deep lows to the top audio octave, with a stable, well-defined soundstage, a tonal and spatial coloration-free view into the recording.
Nina Simone was in the room with me, wrenching the pathos from "Nobody." José Carreras came in to sing Misa Criola. Mel Tormé joined us. This is what I am talking about! No tweaks, no audiophile craziness, just the music, as big and deep and wide as the performers intended it to be." - John Atkinson, STEREOPHILE
July 2012

Audio Fest 2012 – ENJOY THE MUSIC.COM


"I like to pretend that my first stop, after my visit from the heretofore absent-from-my-life Lotto Fairy, will be to Doug White of "The Voice That Is" to check out the latest and greatest from TIDAL loudspeakers. In the meantime, while I sit and wait for Godot, I got a taste of what my future (never hurts to dream) holds, here at Capital Audiofest. Doug had two rooms here, both showing TIDAL speakers. 

In the more expensive of the two, Doug was showing off his personal pair of Contriva Diacera SE speakers in a magnificent custom veneer. These pair speakers were actually the first and second off the line – as you can see from the engraved silver plaques mounted just over their rear-facing ports. Nice touch. The finish is something of a one-off, a super-dramatic custom-stained version of the standard-finish African pyramid mahogany.
As Doug tells it, this finish took about six months of finishing and fussing over before TIDAL designer Jörn Janczak was happy with it – and once complete, said he'd never do again. Doug says he's never going to sell these, and quite frankly, he'd be nuts to do so. Interestingly, these speakers also predate the move TIDAL made to all-black Accuton drivers. 
Anyway, these speakers were not only shockingly beautiful; they put out the most glamorous sound at the show."
May 2012

TIDAL did exhibit at the HIGH END show 2012 in Munich and premiered the TIDAL Agoria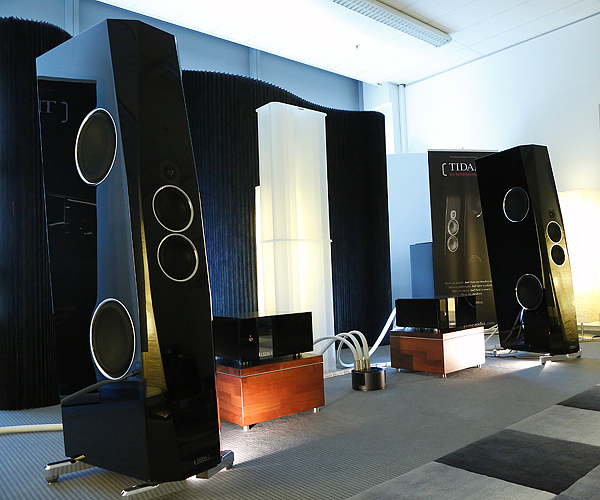 "One of the first really big systems I heard on day one was in the TIDAL/Argento room. Whilst the quality was apparent, it wasn't really hanging together, but by the final day that had all changed. In fact, this was the best-sounding system I heard using a large conventional speaker system. Once it hit its stride, this system sounded open, delicate and incredibly transparent. 
The booming, disjointed bass that marred so many rooms was notably absent -- possibly as a result of the extra control achieved through biamping the speakers -- and all the more remarkable given the paired 11" woofers and three ABRs in each cabinet. Talking of cabinets, the Agoria uses a new material -- TIRALIT -- for its enclosure, and the absence of cabinet sound coupled to an extraordinarily low noise floor suggests that TIDAL are on to something here."