The TIDAL Akira. The smaller brother of the La Assoluta, and one of our two ultimate diamond speakers. Built for the absolute approach in a decent sized design.
"Very fast, very delicate, very clear on tubular bells, percussion, and wood blocks with just the slightest bit of diamond tweet glare on the very top, but also with simply extraordinary timbre and resolution in the mids. An outstanding floorstander."


"...Utterly seamless, it was fluid, unforced, expressive and finely nuanced. Intricate and delicate when necessary, it was also capable of remarkable power and sudden dynamic shifts when necessary. Subtle musical shadings and textures were explicit without being exaggerated, and the Akira made a powerful argument for its exotic driver technology."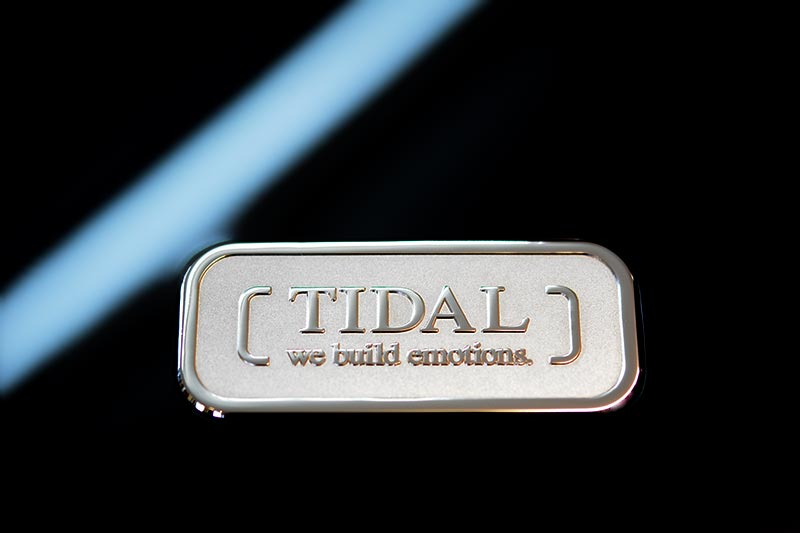 TIRALIT™ ULTRA CABINET
The cabinet of the TIDAL Akira is made out of TIDAL's proprietary cabinet material TIRALIT™. This cabinet material does combines the rigidity of hard materials such as metal with the resonance absorbing behavior of softer materials such as wooden materials like MDF. While TIRADUR is 30mm thick, TIRALIT goes even further and is 42mm thick and combines more single layers. The materials itself, the process of making it and how the material reacts when it is getting excited by vibrations and resonances - all this we putted into consideration when we designed it.
It is the only advanced cabinet material allowing to use organic surfaces such as our famous polished veneers, as well as true polyester piano lacquer. So when you see the Akira in our most beautiful veneers or our shiny black piano finish - don't make the mistake to think the cabinet is out of wooden materials or MDF.
DIAMOND TWEETER
The TIDAL Contriva has an Accuton 30mm pure diamond diaphragm tweeter. Not only it is the biggest diamond tweeter in the world, TIDAL also was the very first company at all using a 30mm diamond tweeter. While the driver itself offers already terrific qualities and is being installed in a massive housing out of polished stainless steel for optimized resonance control - only in combination with our unique TIDAL crossovers this driver can perform in way what we have become famous for.
Maybe interesting to know on a side note: this very same diamond tweeter technology is being used also in the worlds most exclusive car, the Bugatti Chiron.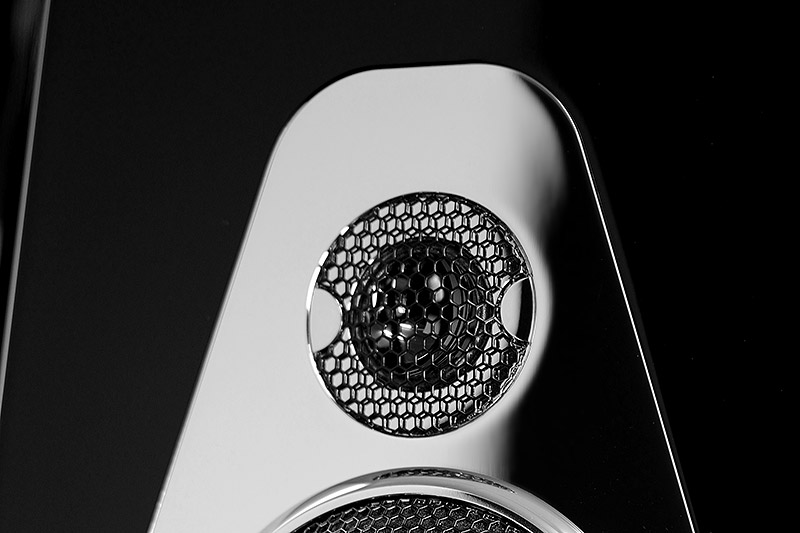 DIAMOND MIDRANGE WOOFER
TIDAL's exclusive 13cm (5") midrange woofer is the result of the Accuton TIDAL cooperation for more than 14 years and is to find only in TIDAL speakers, Akira and La Assoluta. The diaphragm itself is made out of pure diamond. And with that we do not mean 'diamond coated'. No, we mean the real thing: pure diamond thru and thru, the hardest material on earth. It works like an ideal piston, free of resonances and has the best heat-sinking capability of all materials as well. 
Therefore the huge voicemail is also perfectly cooled all the time.
First time ever and exclusive in TIDAL speakers one can use this material to reproduce way lower frequencies than ever before, since this driver has not only the biggest diamond diaphragm on earth, but also it can move 7mm, so we are talking about a driver covering frequencies from 100 Hz and playing perfectly all the way up to the diamond tweeter. This driver not only is second to none in all its details and design, much more important: the result is. 


BCS WOOFER
Another specialty only to find in this speaker is the BCS woofer of the TIDAL Akira. The drivers was designed to play within the bass chamber with its big inner volume to play extremely deep, fast and without compression, at lowest and highest reproduction level. The diaphragm itself is made out of a 3D-shaped honey comb diaphragm and sealed with a high density lacquer.
The magnet motor is exactly designed to the Akira's internal volume and the driver basket is CNC-machine milled to match the Akira TIRALIT cabinet precisely while clamped with a polished stainless steel ring to avoid any kind of reflections and extending the diameter curve of the diaphragm itself smooth into the cabinet. All three woofers do cover the frequency range in the sub bass area all together, to combine the surface area of a much bigger woofer, while to higher frequencies each driver plays up to a different calculated frequency point.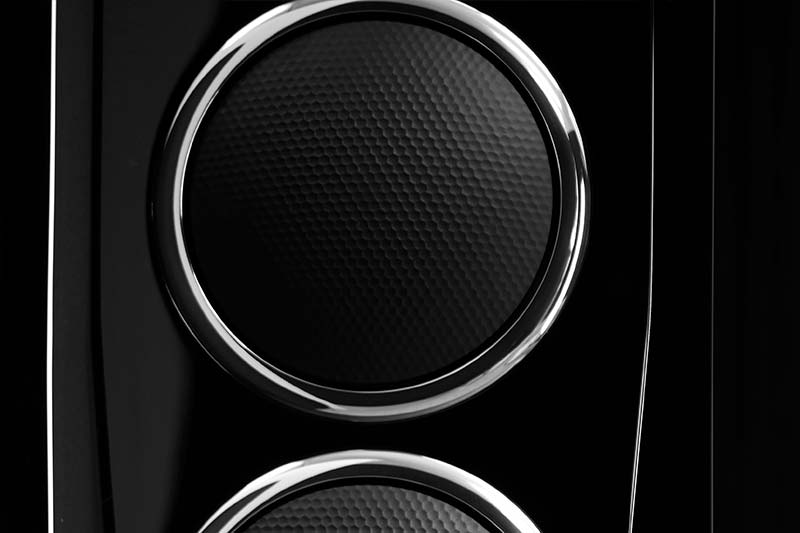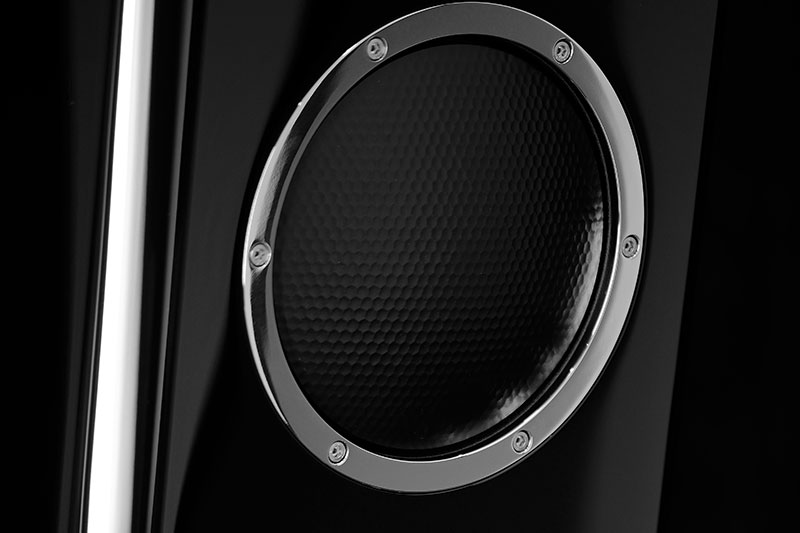 BCS RADIATORS
The TIDAL Akira is designed to play ultra precise even at the deepest frequencies. Each Akira is equipped at the backside with five long excursion passive radiators to support support the front firing woofers with a very deep and low distortion reproduction of bass frequencies without any kind of movement noise. With this special configuration we do excite the bass modes very even within the room from all together 16 sources (2 x 3 front woofers and 2 x 5 backside passive radiators), therefore the bass and deep bass reproduction as far less critical to the room like with other designs.
Here as well our polished stainless steel rings are not only our famous detail and does reflect our love to details, it is designed to clamp the drivers absolutely tight in to the TIRALIT cabinet.
PASSIVE CROSSOVER
Mounted in a hermetically shielded chamber: pure copper foil capacitors, coils of the same caliber, silver-carbon resistors - only the finest components with proven long time stability are used for our crossovers. Unfortunately, these components are also the most expensive ones and are custom-built for TIDAL. Whether any part must be that expensive is a meaningless question and, for one thing, not one that should arise from budgetary restraints. Only the final result is what counts to us and considerations of cost do not enter into the equation.
Our guiding principle is to present our customers with the highest possible degree of reality in musical rendition. Anything less is already amply available but does not meet TIDAL's demands. That is why literally every component is scrutinously evaluated and selected on the understanding that it has be the one without alternative for its specific purpose.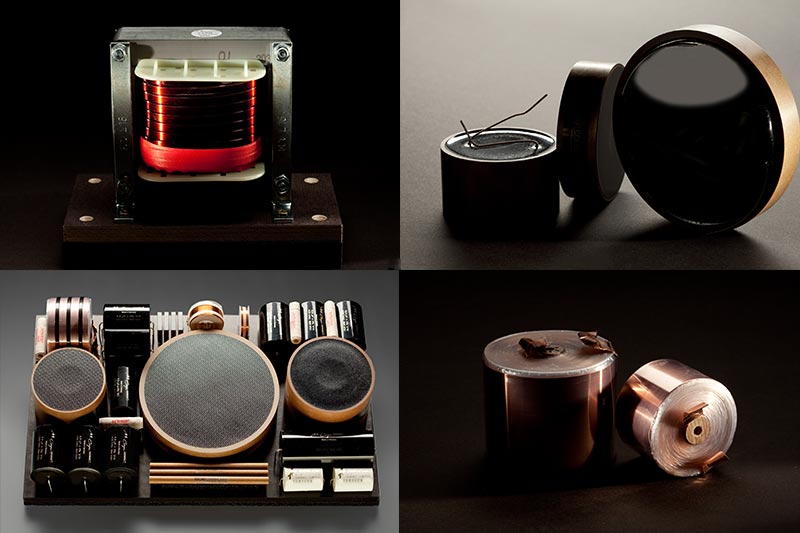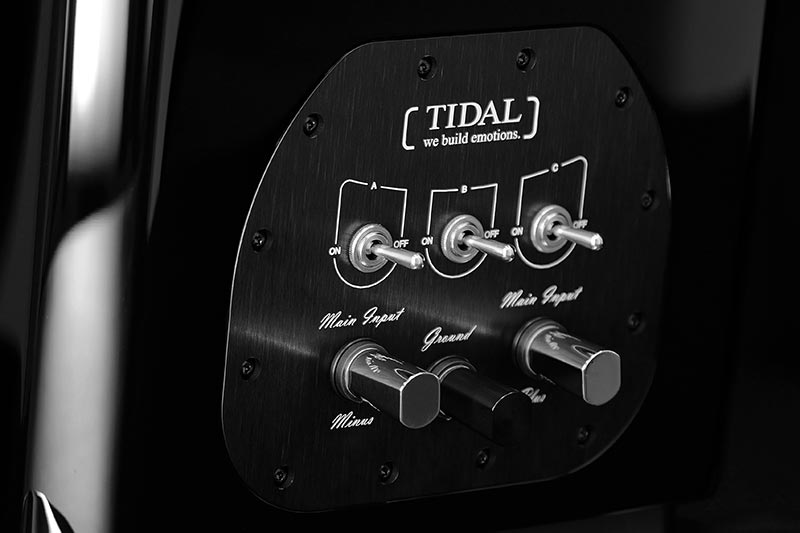 SILVER TERMINAL
Like all TIDAL loudspeakers the Akira has our unique pure silver binding posts. The complex construction out of a fibre-reinforced polymeric material avoids any inductive electromagnetic field and as conductor we use pure silver to guarantee the most little resistance and no loss nor change of the incoming music signal.
The massive metal feel of the knobs itself is coming from that it is hand polished and structured aluminum over an isolating part out of another polymer. The Akira is designed without any compromise to be connected in single amping mode. The complex internal passive crossover takes care about anything else. As option the Akira offers also the possibility for electrical grounding.
AKIRA STAND
The Akira is mounted onto 4 massive stainless steel trigger bar's. Each bar is milled out of a block of highest grade stainless steel and is being high gloss polished completely by hand, since there is no machine able to this. Given the whopping weight of 8 Kg per feet (almost 18 lbs.) and the delicate process of polishing this material flawless to the highest possible degree, this is another example of the unique effort behind each details of this TIDAL masterpiece.
The sheer mass of all together 40 Kg (88 lbs.), including the aluminum bottom plate, underneath the speaker itself as a complete base itself does support the Akira with a rock solid stand for an ultra precise reproduction of even the most tender micro informations of the music itself.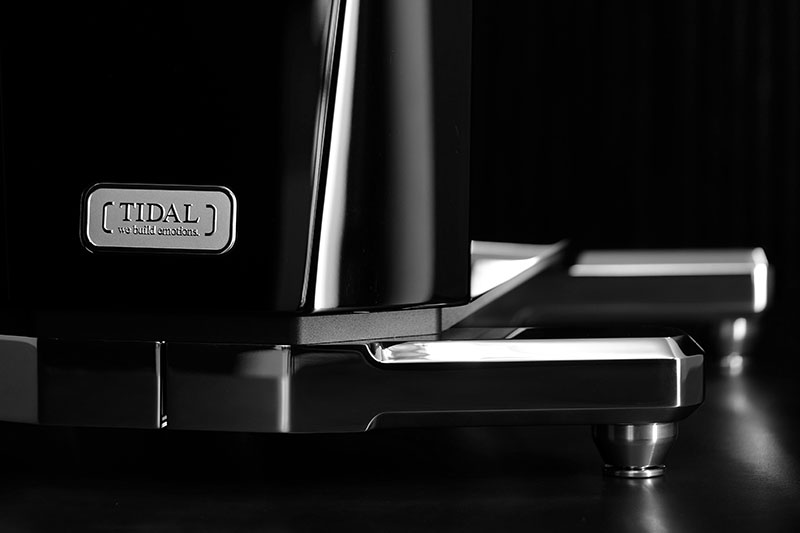 multi chamber cabinet made out of TIDAL's proprietary cabinet material TIRALIT Ultra.
1 x 30 mm (1,2") diamond tweeter TAS-30 (an exclusive ACCUTON TIDAL project)
1 x 125 mm (5") diamond midrange-woofer TAS-DMR (an exclusive ACCUTON TIDAL project)
3 x 190 mm (7.5") long excursion woofer TAS-190W  (an exclusive ACCUTON TIDAL project) in semi-pointsource crossover-control
5 x 190 mm (7.5") long excursion radiator TAS-190PR (an exclusive ACCUTON TIDAL project)
TIDAL UNOPULSE passive crossover: TIDAL proprietary design to reproduce signals with an excellent step response and linear frequency response
network with ultra low tolerance components, exclusive use of costume tailored DUELUND-copper-capacitors (silver/copper), metalfilm-resistors, silver-carbon resistors, silver air-core-inductors, ultra low resistance bass-inductor
passive crossover is microphonic and hermetically isolated in a separated chamber, total weight of the passive crossover construction: 20 Kg / 44 lbs.
pure silver binding posts for perfect contact, isolated massive aluminum knobs on fiberglass isolation core
ground connection binding post
special 5-part TIDAL stainless steel isolators
8 x trigger bars out of massive stainless steel, 32 Kg (70 lbs.) per speaker, high gloss hand-polished
serial cabinet finish: original TIDAL piano lacquer in midnight black
optional cabinet finishes: finest hand selected veneers in TIDAL's original transparent piano lacquer.
other finishes: on request
the TIDAL Akira is being delivered in 2 x ATA-flightcase for the most safest transport



nominal power handling: 400 / 800 VA
nominal impedance: 4 Ohm
recommended amplifier power: > 30 watt. Very easy impedance load, no impedance drop below 4 ohm
speaker dimensions: 140 cm x 29 cm x 55 cm / 55" high x 11.5" wide x 22" deep
dimensions with vario feet (from ground to top): 148 cm high / 58" high
speaker weight without flight cases: 2 x 158 Kg / 2 x 348 lbs.
shipping weight with flight cases (transport weight): 2 x 182 Kg / 2 x 401 lbs.
shipping dimensions: 2 flightcases, each flight case is 162 cm length x 42 cm width x 71 cm height / 64" length x 16.5" width x 28" height



GALLERY: TIDAL PIANO LACQUER




GALLERY: TIDAL PIANO LACQUER