Pre amplification beyond descriptions. The TIDAL Presencio is nothing less then an ultimate phono- and high level pre amplifier for those who want to open the window between the source and the power amps wider then ever before, to find out what was recorded without any loss of detail or add of device colouration.
Three isolated true balanced phono inputs in an external deck do allow a free configuration for three different tonearms and cartridges.  And do offer nothing less then bringing the reference standard of our worldwide praised Preos to a whole new level of performance. The Presencio is designed for nothing less to be compared with one: reality.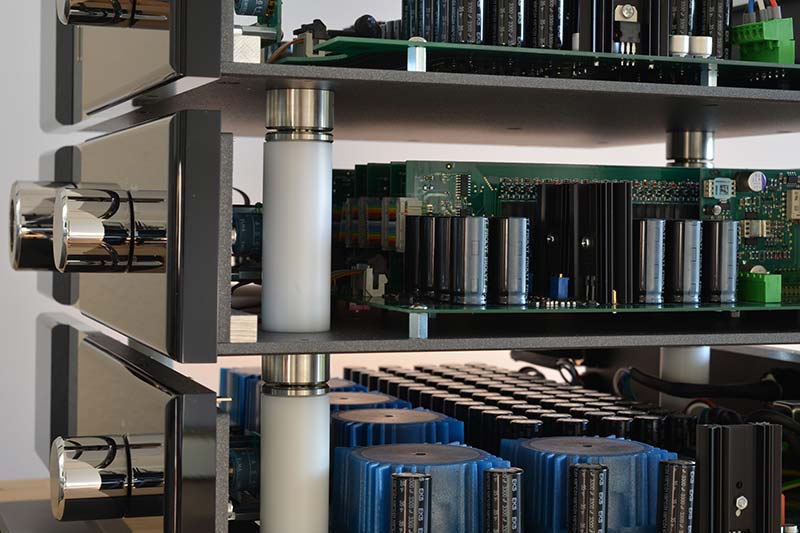 PRESENCIO SPECIALTIES
Here we will show the essential and unique details of the TIDAL PREOS in words and pictures, please have a little bit patience.
pure discrete designed dual mono reference line level / reference phono preamplifier with TIDAL minimal-path-technology
reference phono preamplifier with level control / high level pre amplifier with level control
concept: fully balanced minimal path topology dual mono pre amplifier with fully regulated external power supply and 3 balanced phono inputs in an external deck
true balanced concept without any sound-changing inverted signal generation
3 separated cabinets for power supply (POWERDECK), line stage and phono control deck (LINEDECK) and phono control input deck (PHONODECK)
completely regulated power supply with galvanic separation and filtering for "left", "right" and "control" for each channel of the LINEDECK and PHONODECK, regulation boards out housed from the power supply directly at the amplifier boards
completely separated power supplies for level control and isolated DOT-matrix display with level indicator ("min", "1 - 31", "max", "mute", "on", "1:1") with time delayed turn-off with "on"-indicator behind a mirror inside of the chrome plate
2 separated power cord inputs with different filtering for "Analog" and "Control"3 x balanced input, 3 x unbalanced input incl. 1 x tape-loop, 3 x balanced phono input, 2 x balanced output, parallel volume controlled
unique level adjustment: only 1 high precision resistor in signal path for level adjustment, controlled by an electronically and mechanically isolated motor driven ALPS potentiometer-A/D-converter-unit and 256 reed-relay, remote control for volume and intelligent soft mute
one input can be configured as 1:1 direct mode for an external surround processor or as classical high level input
3-stack device with resonance controlled cylinders inside of the cabinets made out of Delrin and isolator feet to place it 'plug & play' on top of each other 6 x remote output for up to 3 pair Impact Monobloc, intelligent soft start

Phonodeck: 

directly with the LINEDECK coupled phono deck with 3 true balanced inputs for up to 3 different cartridges / tonearms
true signal separation for left/right, plus/minus - like it is originally generated from the cartridge itself without sum it up to RCA signals, therefore almost no distortions, changings in colouration, loss of details and adding of an own sound from the device to the original signal
2 channel separated constant temperature heating boards for the phono part, therefore lowest distortions, right after the start perfect conditions, no need for constant "power-on"
3 totally free configurable phono inputs, switchable while running for immediate judging of the result one is hearing
completely galvanic separated ground between "left, "right" and "control"
4 linear regulated power supplies with 40 x 3.300 µF, total buffer- and filtering capacity 132.00 µF
Voltage Gain: 50dB (at 1kHz)
Noise: >100dB (0.5mV input voltage)
Distortion: < 0.005%
Input Impedance: 50 ohm - 2.400 ohm
Dimensions: 44cm x 13cm x 39cm / 17.3" x 5.1" x 15.3" (width x height x length)
Weight: 24 lbs. / 11 kg

Linedeck: 

6 isolated amplifier modules
separated discrete balanced output modules without sound-limited transformers
8 volume control boards with 256 relay and direct resistor access in the signal way without cascades, digitally controlled with fully analogue switching and logarithmic resolution
completely galvanic separated ground between "left, "right" and "control"
4 linear regulated power supplies with 40 x 3.300 µF, total buffer- and filtering capacity 132.00 µF
Voltage Gain: 12dB (at Line inputs) or 23 dB (at PHONODECK input)
Gain Bandwidth: 1Hz - 350kHz (-3dB)
Distortion: < 0.001%
Noise: > 100dB (0.5V output voltage)
Input Impedance: 10k ohm
Output Impedance: 50 / 150 ohm
Dimensions: 44cm x 13cm x 39cm / 17.3" x 5.1" x 15.3" (width x height x length)
Weight: 24 lbs. / 11 kg

Powerdeck:
regulated power supply with 6 transformers for 12 different voltage outputs with 84 x 3.300 µF, total buffer- and filtering capacity 277.200 µF
6 remote output for time delayed sequential power on/off control of up to 6 TIDAL "Impact Monobloc" and TIDAL "LPX"


Power consumption: 25W (PHONODECK and LINEDECK are plugged in)
Dimensions: 44cm x 13cm x 39cm / 17.3" x 5.1" x 15.3" (width x height x length)
Weight: 30 lbs. / 14 kg