The Camira is the reference  digital-analog-converter from TIDAL - and its performance is so radical that we gave the device a new name: Camira DMC Digital Music Converter™. Designed without compromises it offers a true digital to analog output conversion, no matter PCM or native dsd. The Camira TIDAL's proprietary Analog Signal Remediation Technology (ASRT). With it, we are able to bring back the analog signal from any 44.1 KHz signal, which contains the most used formats: every CD and every music streaming services. In a sound quality only known from native high resolution formats or analog sources.
The TIDAL Camira uses none of the existing technologies like upsampling, oversampling, clocking or re-clocking. None of this is necessary since it uses an unique FPGA technology remediating the 44.1 KHz signal back to analog in combination with a fully discrete non-oversampling ladder DAC.
Of course it also has all the TIDAL classic build details, for e.g. such as the original TIDAL reference pure silver hollow conductor cable inside from the power input to the PCB input. But first above all it is delivering one hell of a sound quality. We would go so far and say even: second to none.

CAMIRA SPECIALTIES
At TIDAL specifications and specialties are in the end of the day only single aspects to form a complete result out of it. And such thing could not be brought down to single parts or numbers. This would be like making conclusions of the wine by describing the grape the wine was made from. But afterwards one can find some details to give at least some small background informations.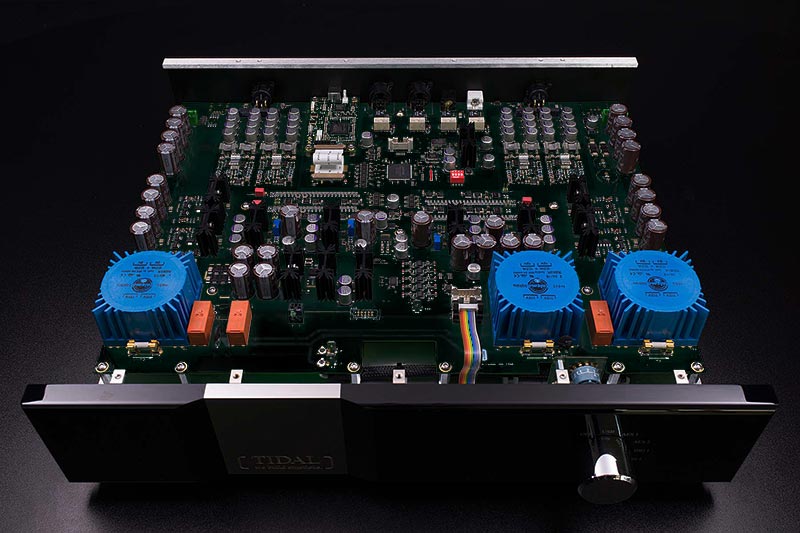 pure discrete designed 24 bit non-oversampling R2R ladder DAC without pre-ringing and post-ringing
proprietary USB-to-I²S interface directly into the I²S interface of the ladder DAC without detouring USB-to-SPDIF > SPDIF-to-I²S > I²S-to-DAC
proprietary ASRT Analog Signal Remediation Technology: Field Programmable Gate Array for most precise timing informations between the left and right channel incl. timing correction and audio signal remediation processing of 44.1 KHz signals
true balanced output concept without any sound-changing inverted signal generation (like with transformer outputs)
every function-module has its own voltage supply, separated for each channel, left and right, for e.g. such as for the amplification, the DAC, the PCM-unit and the USB-module and others. All together 20 ultra low noise voltage supplies.
the best cables are: no cables at all. Therefore you will not find any connectors, cable bridges or anything like it at the Camira. The only wiring we are using inside is an original TIDAL Reference hollow conductor silver cable from the power input directly soldered onto the PCB board - no compromise.
2 x digital input AES (XLR)
2 x digital SPDIF (coaxial BNC, cinch RCA)
1 x asynchronous USB class 2 input for PCM and DSD/DXD audio formats
up to 384 KHz sampling rate
384 KHz/24 bit PCM and up to DSD256
no drivers needed for MAC OS and Linux
drivers for Windows
DSD by DoP and native over ASIO interface for Windows (link to Windows driver download here)
0,01% tolerance precision resistors
femto clock ultra low noise oscillator (-169 dB)
fully discrete Class-A output amplifier
ultralow-ESR organic capacitors
Dimensions: 44cm x 13cm x 39cm / 17.3" x 5.1" x 15.3" (width x height x length)
Weight: 24 lbs. / 11 kg