The all new TIDAL Prisma. Transparency and invisibility at a new level. The Prisma does exactly two things only, and it does it in absolute perfection: selecting the source and adjusting the volume. It has to be experienced to understand the game changing way it does this. It takes itself acoustically completely out of the way between the source and the power amplifier.
The unique concept, the TIDAL pre amplifier topology itself and the execution of the complex multilayer PCB board are the inner heart piece for the unique performance. On top of all that the Prisma comes with our legendary fully balanced MC phono input. A line stage like no other, as always embedded into our timeless and iconic TIDAL cabinet and built in perfection.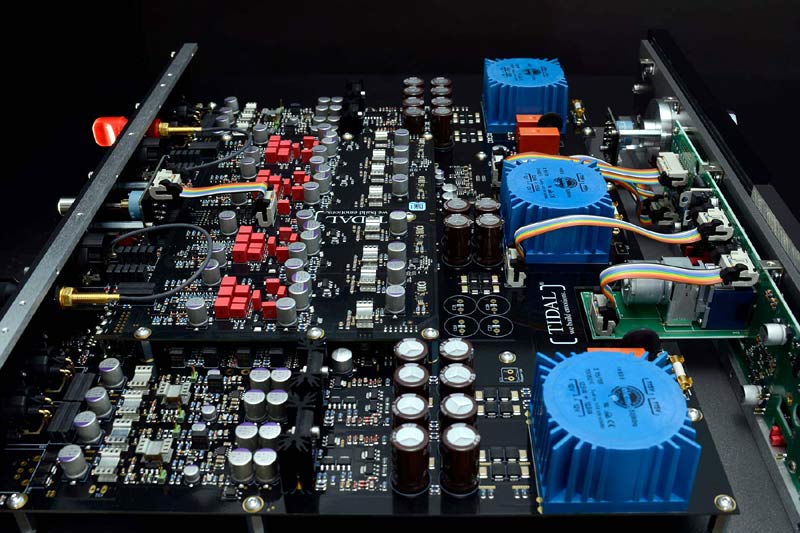 power supply
connection to power input: 3 silver air-core (silver tube) conductors with connector, burnt in as complete cable-tree before assembling and being the only wires inside the preamp
3 x 25VA ring core transformers
galvanic isolation between the control section (for the whole ADC processed level control) and the complete analogue part, divided into left and right
all together 20 (twenty) separated linear regulated power voltages in total
low noise power supply (left and right) for the analogue amplifier, directly embedded for shortest signal ways directly where it needs to be.
 amplifier section
the whole amp section is built from single parts selected and to each other balanced by hand (discrete match up)
symmetrical amplifier design with only two solid state stages in the signal way
low distortion and almost complete absence of a signature sound because of a complementary circuit topology, following the concept of the ideal for the shortest signal way, true balanced design in mirror-symmetrical layout onto a 4-layer PCB board
 volume control
32 steps volume attenuator with noble-gas filled mini reed relays and super short signal ways fully balanced, means audio-plus and audio-minus do have their own level adjuster, no cascade compromises. This means no open contacts (to prevent corrosion/dust etc.), and only 1 (one) metal-film resistor in the signal way in the best (and direct) position between signal in and signal out
Galvanic and optical isolated ADC control from an ALPS motor driven potentiometer to control the relay's itself, resolution adapted for each volume level (higher for lower levels, lower for higher levels)
 features
3x true balanced inputs and 1 x MC phono input
when the balanced input is turned off also the matching GND connection is in high resistance (100 Ohm) for reducing ground loop
2 x balanced output
2 x remote power on/off by RJ45 to power amplifiers on and off
loop-thru mode free to configure to either input 1,2 or 3 for external AV processor home cinema embedding
phase invertion (to be switched with remote control)
 phono module
MC phono input, unique two-stage concept between the MC-board and the line-stage itself for the shortest possible signal way from cartridge to balanced output (to the power amp)
phono heating for low distortions and perfect temperature of (sound)sensitive parts.
fully balanced input impedance to be chosen by the rotary switch at the backside (ELMA precision switcher controlling mini-reed-relay direct in the circuit (from position 1 up to 12): 50, 80, 100, 130, 160, 200, 266, 330, 400, 570, 800, 2000 ohm)
high-gain/ low-gain selector with a 10dB difference (also in sound)
direct soldered connection to the main board by silver air core solid core wires
voltage gain: 10 dB (line mode) 20 dB (phono mode)

bandwith: 1Hz - 350 kHz (-3 dB)

distortion: < 0.005%

noise: 100 dB (0.5 V output voltage)

input impedance: 10 kOhms

output impedance: < 40 Ohms

DC-coupled symmetrical MC-Class-A amplifier: voltage gain: 55 dB (at 1 kHz), noise: > 80 dB (0.5 mV input voltage), input impedance: 10 - 1.2 kOhms, output impedance: 150 Ohms

dimensions: 17.3" x 4,7" x 15,3" / 44 cm x 13 cm x 39 cm

weight: 70 lbs. / 32 Kg incl. packaging