June 2016

Lotus Hifi brings TIDAL to the UK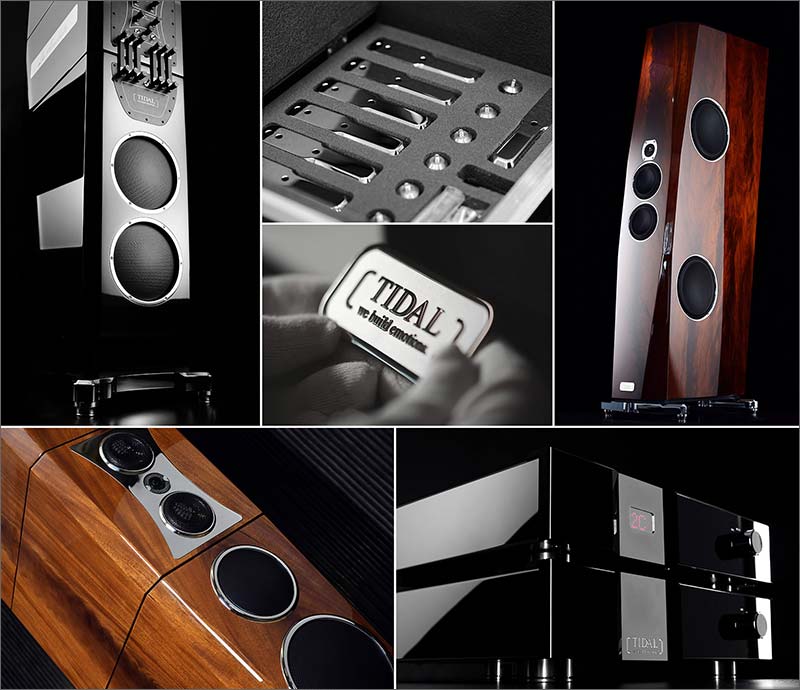 TIDAL masterpieces are the first time available in the UK now:
"After several years of planning and investment, LOTUS HIFI is extremely proud and excited to mark a significant turning point in the history of UK Highend Audio. TIDAL AUDIO is an industry Holy Grail, a true Luxury brand, endlessley authentic and overflowing with pedigree. Their  single-mindedness, uncompromising philosophy and ridiculously high manufacturing standards have never once faltered. Glare in bewilderment at the outside or the inside of these masterpieces and it's hard to decide which is the more extraordinary. Every TIDAL over delivers on all counts. Every TIDAL is perfected without compromise. Every TIDAL is crafted with a finish and an attention to detail which is rarely observed not just in Home Audio industry but across the entire consumer marketplace.
The TIDAL sonic approach is perhaps easier to put into words. In the designer's own phrasing, "a pure glass of water", "one hundred percent transparency, zero percent colouration". Put another way, a TIDAL imposes no sonic signature on the music and all the usual audiophile language is therefore largely moot. With a TIDAL you get absolute invisibility and the only thing that is left is the real thing. I will only briefly impress upon you that it is indeed something truly magical and most likely quite different to anything you may have heard before.
Whilst the flagship TIDAL system will cost you a cool £1,000,000, it cannot be stressed enough just how high performing the entry level products are and what  incredible value for money they represent. I urge you to investigate my TIDAL BLOG to understand more about this exquisite marque. The enriched, illimitable, extreme world of TIDAL is not something one should engage with lightly. The inherent passion and love, the fanatical attention to detail and the remarkable technology behind this company should be digested and appreciated at a slow contemplative pace."

Link: http://www.lotushifi.co.uk/tidal-audio
June 2016

TIDAL Contriva G2 in Audioart magazine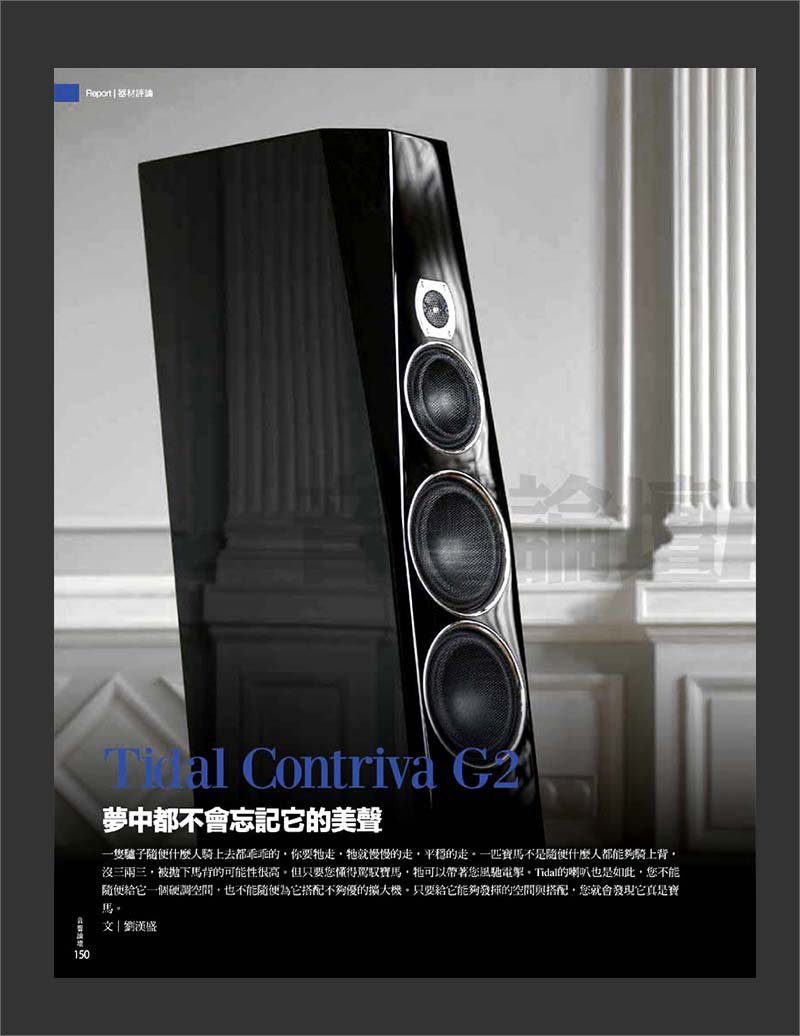 AudioArt headline: "The dream will never forget the beauty of its sound"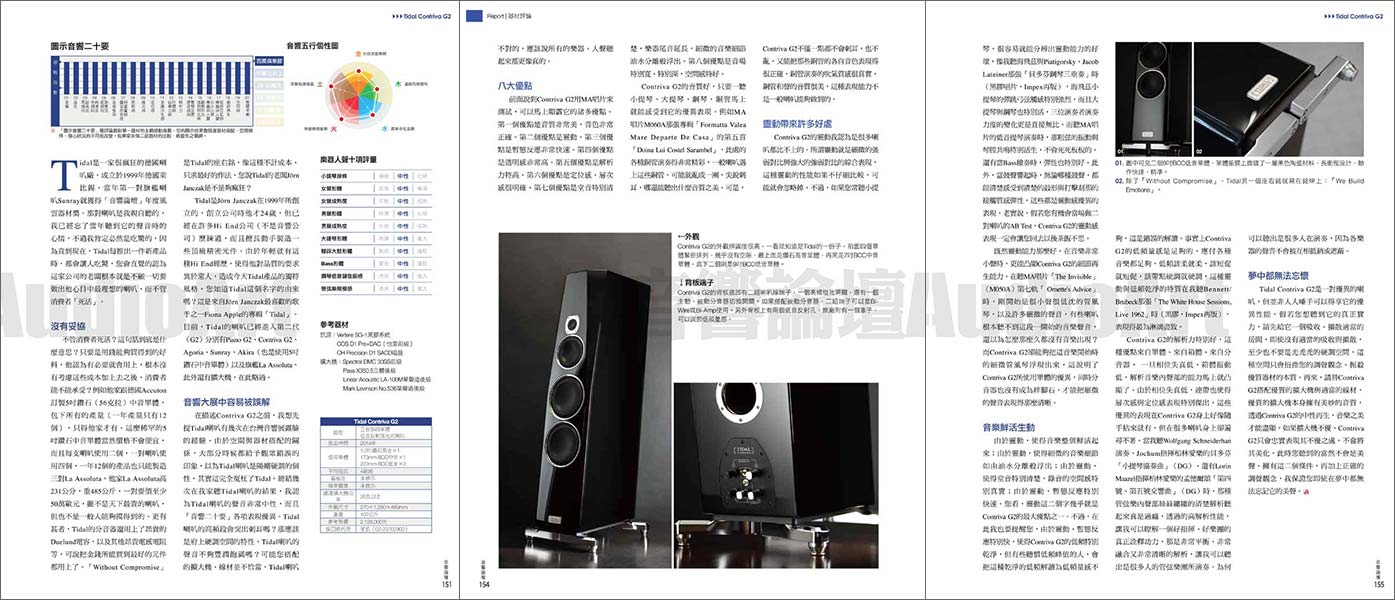 TIDAL Contriva G2 has been reviewed in AudioArt magazine, result: all 'full points' and a perfectly balanced testing reproduction in all aspects a speaker can reproduce.
June 2016

T.H.E. Newport audio show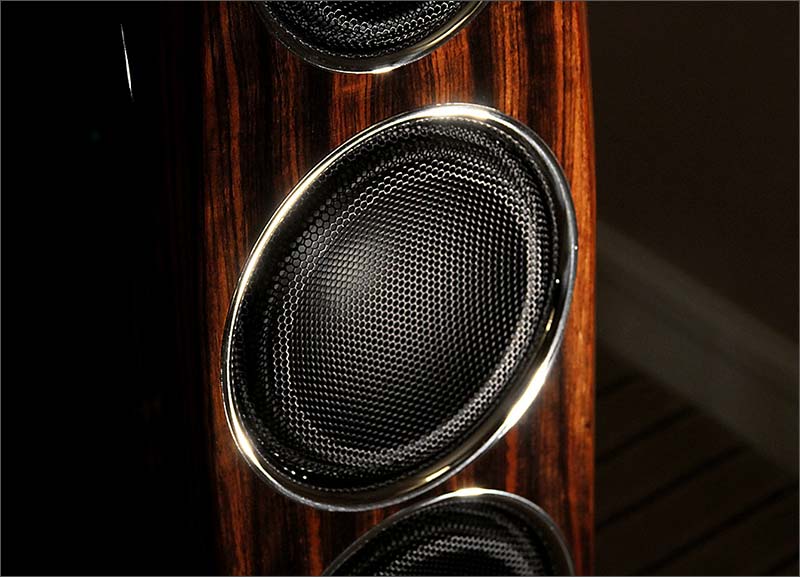 AUDIO OASIS AWARD
"TIDAL Audio is a serious, first-rank, world-class audio company, with top-notch electronics, speakers, and cables.... There was no doubt about it: this room had the magic touch! Definitely an Audio Oasis! Award winner."
(Dr. D. Robinson, Positivefeedback.com)
"Emotionally provocative, and addictive.... Thom Yorke's voice was wailing at me with passion, and fury in-between the speakers. Ditto for the rest of the band. I felt like I could take a bite right out of the air, and rip off a piece of the performance. Crunch, slam, pound, caress, whisper, convulse. The big Contrivas never missed a beat. Indefatigable composure.". "Fit and finish to die for.".
(R. Arnott, Parttimeaudiophile.com)

"...Open, energetic, neutral, and finely detailed..."
(J. Valin, The Absolute Sound)

"...imaging and clarity were spectacular."
(H. Reichert, Stereophile)

"This room was far and away the best digital-only sounding room.... The sound was simply beautiful, and the speakers were very striking to look at as well."
(J. Roberts, Dagogo.com)
Mai 2016

HIGHEND 2016 show press feedback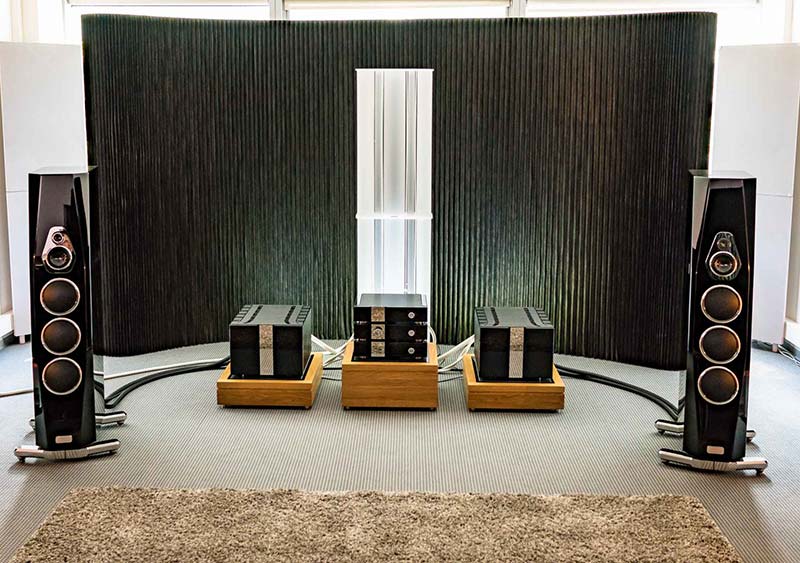 "The gorgeous-to-behold three-way Tidal Akiras (which use a 5" diamond midrange driver—the largest diaphragm made out of diamond that Accuton builds), driven by Tidal electronics, were also wonderful in (alas) a relatively rare all-digital room.
Dark and rich in timbre with superb power range weight and color, sweet treble, and outstanding transient response, the Akiras sounded exceptionally beautiful, exciting, and high in resolution. They always do." (J. Valin, The Absolute Sound)

"I've said before that that the Tidal line — the entire line (they sell electronics as well as speakers) — are not for the faint of heart and wallet. There's absolutely no apology being made for their expense. This is the Rolls Royce of high-end audio, the Jaeger LeCoultre of watchmaking. Is there better? Is there more expensive? If you're buying at this level, you know that these aren't the questions that matter. At this level, it's more about fit — that is, does this fit you? Because whatever else there is, that "else" just isn't Tidal.
Take the finish. It's … beyond. You can see that I'm slipping into the poetic here; but the point is, that's the point. It's really hard to just say "the fit and finish is taken to the highest level" and have that actually convey how truly elevated these products look. 
This isn't what you'd find in Donald Trump's office. You need elegance and class for stuff like this. I'm thinking more Blofeld. Or maybe Hannibal Lector. There's a latent sense of menace lurking in this gear, and one that isn't easily dispelled. No, for that, you have to turn it on and then turn it up. But that's the problem, see. Because then, you are undone. And as your brain begins to happily melt, you'll forgive the weapon of your destruction. Because you are only human. And weak. And as you end, you'll weep softly in joy, knowing that this was meant for Gods..." (S. Hull, Parttimeaudiophile.com)
April 2016

AXPONA highend show 2016 – press feedback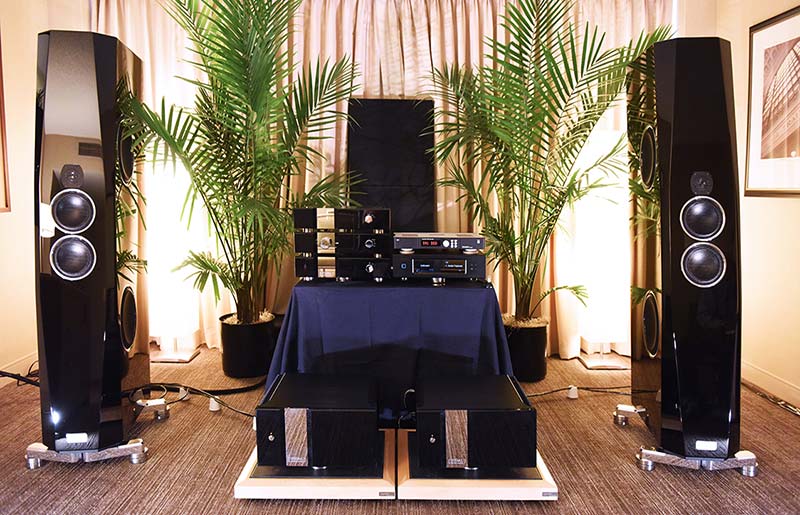 AUDIO OASIS AWARD:
"The TIDAL system consisted of the Presencio triple stack of electronics, consisting of the Linedeck, the Phonodeck, and the Powerdeck components, a pair of Impulse monoblocks, and a pair of the Agoria loudspeakers. It's an absolutely brilliant synergy, startling in its transparency, detail, and effortless dynamics.
Once again I heard the seamlessness of the 1.2" diamond tweeter, the ceramic mids, and the side-firing woofers... and once again I was powerfully moved by the magic of TIDAL. A definite Audio Oasis! Award here."
(Dr. D. Robinson, Positive Feedback online)

"Ya gotta love the depth and breadth of the TIDAL product portfolio and the results that can be realized. There is something to be said for system synergy and voicing from the same manufacturer. I found myself staying longer than I had planned and then returning when I had a few spare minutes before closing."
(R. Youman, Positive Feedback Online)

"In terms of raw sex appeal, an early winner from AXPONA featured a full set of electronics and loudspeakers from TIDAL Audio out of Germany. Pools of liquid ink have been captured and somehow suspended in semi-solid forms; casework with glittering chrome, and speakers that seem so dark that they pull at your eyes .... wow." "... the presentation and overall immersion was true and truly lovely." 
(S. Hull, Parttimeaudiophile.com)

" ...If I awarded a prize for most beautiful sound of the show, this system would surely have won. Absolutely lovely, delicate, dark, smooth, and relaxed on Cassandra Wilson, The Nylons, The Fairfield Four-on everything, in fact-the Tidals also managed incredible resolution of detail, and this when sourced by a digital front end!" 
(J. Valin, The Absolute Sound)
August 2015

Capitol Audio Fest 2015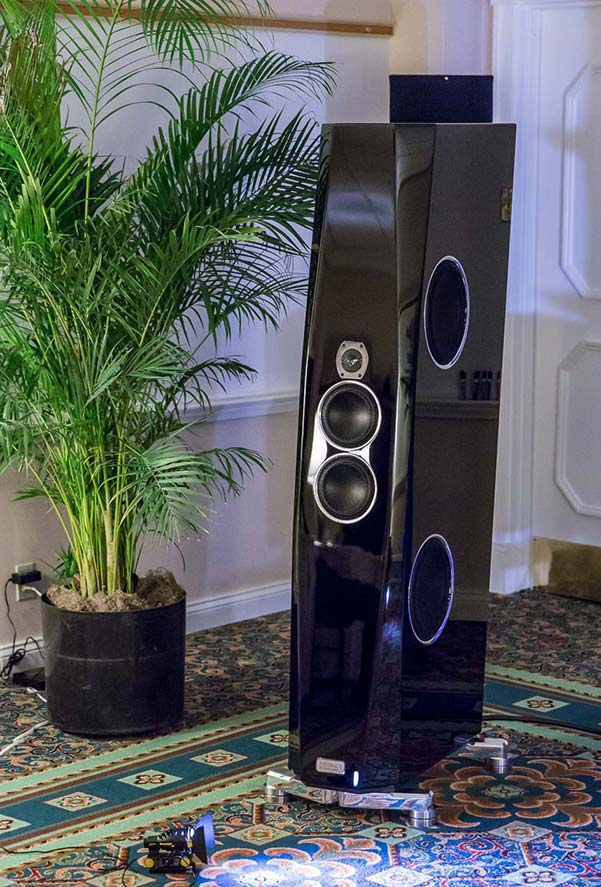 "What did I hear? I'll cut to the chase — this room was my first vote for Best-In-Show. Bass was d-e-e-e-e-p, in exactly that kind of way you want a good sub to sound, natural without discontinuity. Detail retrieval was (as expected) among some of the very best-in-class, without feeling sterile or brittle. Backgrounds matched the finish on the speakers, which is to say, blacker-than-black.

Overall, the sound was delicate and bombastic, by turns. Brian was playing some tracks from Channel Classics and Chandos while I was there, and I'm pretty sure he said there were dynamic swings of close to 30dB. If so, I believe it. Walking around, distracted by taking pictures, I nearly jumped out of my skin several times."
(Scott Hull, Parttimeaudiophile.com)
August 2015

Capitol Audio Fest 2015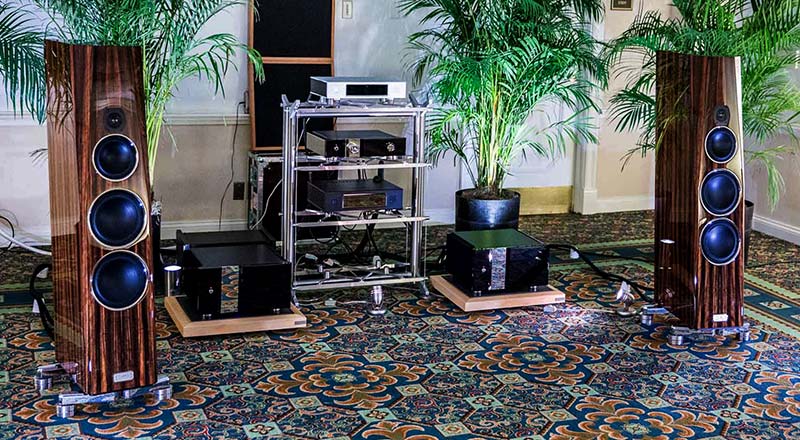 "Which is to say, "Best I've Ever Seen" (and yes, that includes some infamously expensive loudspeakers coming out of England). There's this expansive depth to the finish which is startling. I'm not a fan of "glossy", but this isn't. This is liquid. As in, "still wet". Touching it is more than a little obscene... So, putting aside thoughts of affordability (and ruthlessly squashing wild ideas about raiding college funds), I sat down to let the sound wash me away... So, when I say I was gobsmacked, do take that familiarity into consideration. This was incredibly heady stuff. Ethereal … delicate … insightful. And then, on a dime, wildly bombastic. This is why we get into audio, folks. Right here. This is a reference for Absolute Sound."
(Scott Hull, Parttimeaudiophile.com)

"First of all, that the TIDAL equipment was radically beautiful to see, and a smokin' knockout to hear' What workmanship in both domains ... a real reference standard for how things should be. Sonically, the sheer scale and dynamics of the music in this room was bloody extraordinary. The electronics might have been new to North America, but the effect was "Audio Oasis ! Award material" all the way. The sound was effortless, fluid, natural, organic, and had the sort of transparency that I associate with only the finest sort of designs that l've encountered on this planet Detail without edginess; dynamics without loss of control; full-frequency-range presentation without humps or valleys." (Dr. David Robinson, Positiv Feedback Online)
June 2015

Highend 2015 – THE AUDIOBEAT


"Of course, this being Munich, the Vox Olympians were far from the only extravagant speaker system on show. After getting everybody all excited last year by announcing a diamond-midrange speaker, only to deflate that expectation by showing it sat in a display case, TIDAL redeemed themselves this time around with not one but two speaker models using the driver. 
The system playing was the "more affordable" of the two, the Akira, featuring just one of the exotic 5" drivers per channel, naturally paired with a 1.2" diamond tweeter. The midrange driver itself is similar in design to a massive tweeter, driven by a circumferential voice coil with an annular-ring motor structure that is specifically designed to avoid rear reflection.

That's an expensive setup, even if it's still comparatively modest by Vox Olympian standards. But musically speaking, the performance didn't disappoint. Utterly seamless, it was fluid, unforced, expressive and finely nuanced. Intricate and delicate when necessary, it was also capable of remarkable power and sudden dynamic shifts when necessary. Subtle musical shadings and textures were explicit without being exaggerated, and the Akira made a powerful argument for its exotic driver technology. 
Once again, TIDAL were one of the few companies that showed a traditional big-box, wide-bandwidth system and made it work. Once again it got better as the show went on, but past experience made sure I went back on Sunday and sure enough, the resulting musical coherence and astonishingly lucid performance were more than worth the wait. 
For those who find the Akira disturbingly affordable for a serious high-end speaker, there's always the "If you have to ask" La Assoluta, with its twin-diamond-midrange driver array, a speaker that's actually taller than its designer, Jörn Janczak -- and that's saying something!" (Roy Gregory, Theaudiobeat.com) 
June 2015

Highend 2015 – SOUNDSTAGE ULTRA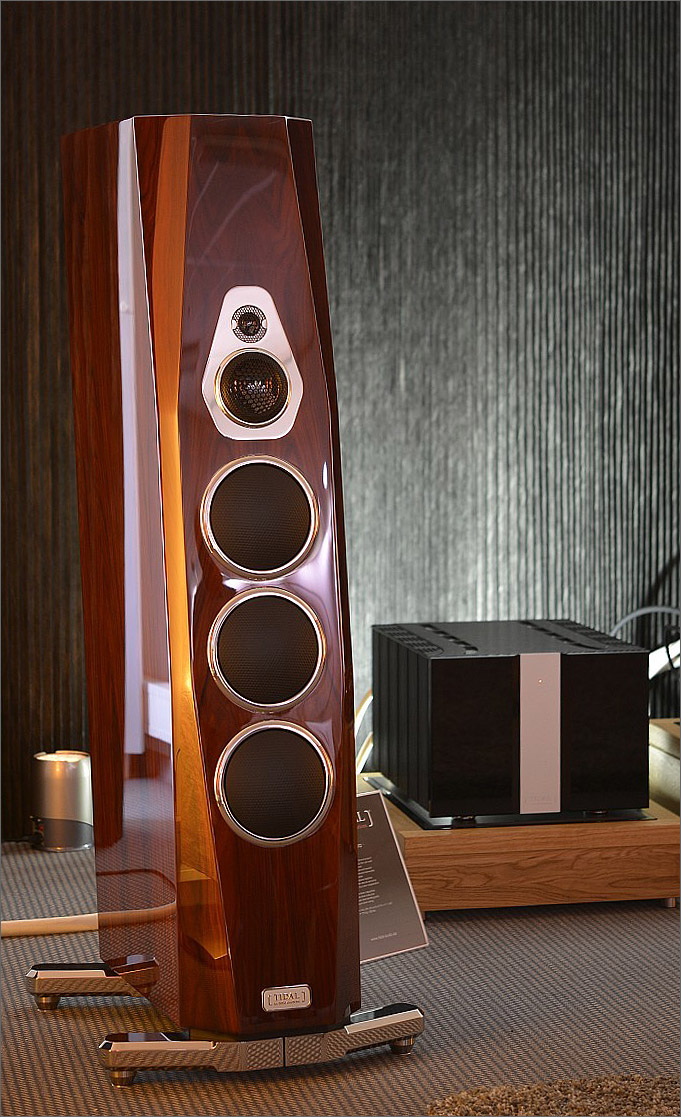 "The presentation of the TIDAL Audio Akira loudspeaker was unique at High End 2015 in being fronted by an all-TIDAL system: amps, DAC, preamp -- you name it, TIDAL produces it. The advantage was that TIDAL founder Jörn Janczak could get exactly the sound he wanted, because he controlled all the variables (well, he hadn't built the room, but he had exhibited in it before, and knows its acoustics). The sound was TIDAL's best yet at a High End show: clear, open, ultraprecise, never harsh. 
The Akira lifted a veil from the TIDAL sound, which at High End has always been at least very good. For instance, I felt that cymbal crashes were true to life, without the whitish splash that many speakers produce. Another hallmark of the design was the perfect blend of the five drivers' outputs, with no hint that disparate drive-units were handling different parts of the audioband. 
Imaging? Superb: a Norah Jones and Willie Nelson track produced accurately formed images on a wall-to-wall soundstage. That track also made clear that the Akiras were tonally neutral, reproducing these singers' distinctive voices without wavering. And their room-energizing bass showed that the Akiras had real dynamic punch when that was needed. My takeaway: TIDAL's best speaker yet, and by no small margin." (Jeff Fritz, Soundstageultra.com) 
June 2015

Highend 2015 – THE ABSOLUTE SOUND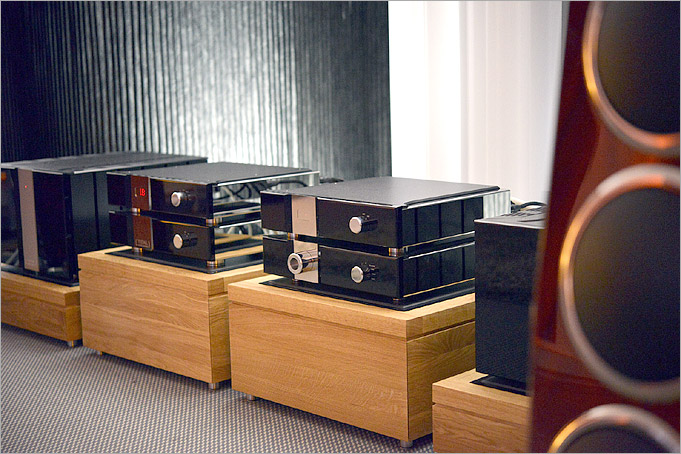 "The TIDAL Akira multiway has a passive radiator array on back that is user adjustable to suit your room and a 5" diamond mid/woofer with 7mm excursion (a joint project of TIDAL and Accuton). This single midrange driver crosses over from the active woofers at 150Hz and covers the entire range up to 6kHz, where it passes the baton to the diamond tweeter. 
In other words, it is very nearly a single driver speaker. And it has the purity of same. Very fast, very delicate, very clear on tubular bells, percussion, and wood blocks with just the slightest bit of diamond tweet glare on the very top, but also with simply extraordinary timbre and resolution in the mids. An outstanding floorstander." (Jonathan Valin, The Absolute Sound)