1. October 2011
TIDAL was exhibiting at the Rocky Mountain Audio Festival: Piano Cera, Preos & Impact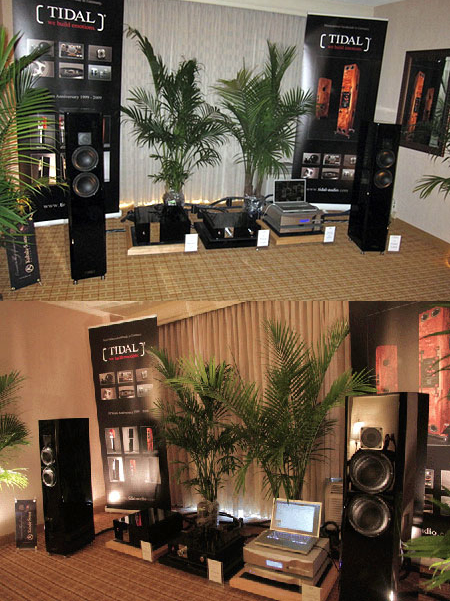 Stereotimes.com:
One of the Best Sounding rooms at this year's event goes to the TIDAL Piano Cera loudspeakers, Presos preamp and Impact amplifier. Digital playback was by way of a dCS Puccini/UClock combo and the overall sonic effect was refined, smooth and ultra-musical. In a word: EASY. 
I've grown a strong affection for these Piano Ceras over the years and now have a pair under review (stay tuned). 
My time spent has only deepened my respect for TIDAL products and its designer Jorn Janczak.

Link to article & video
6moons.com

TIDAL was showing their budget speakers, the TIDAL Piano Cera powered by TIDAL solid-state electronics. Front end was a laptop computer playing into a dCS Paganini DAC. 

I noted that the system was well composed on even the most complex and dynamic musical peaks. There was plenty of refinement too.
1. September 2011
Review of the TIDAL Piano Cera in the German magazin "Hifi-Stars"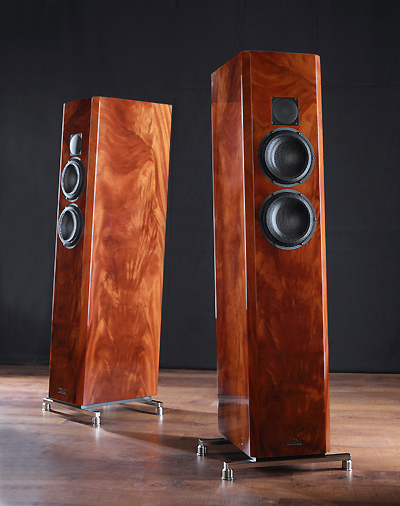 ...The Piano Cera is not only a very musical loudspeaker, but the same time also an instrument to judge the quality of the recording itself. This means, if the musical content and expression itself is alright, then the TIDAL's will transport this to 100%, without hiding the flaws of the record.

... I lost myself in descriptions of music, even if this review is supposed to be about a loudspeaker, why is that? Well, this is the biggest compliment I can give any loudspeaker. It is all about the fun of music, and not only about "locating the triangle at tact 37, two meters behind the timpany-guy in perfect timing every second beat". And exactly for that is the Piano Cera the right musical instrument!
Don't forget: you can hear all details and for sure the mentioned triangle we talked about, you can locate it even to the millimeter, but the physical presence of the speaker itself is completely invisible and does stand completely behind the musical interpretation - this is the big strength of the TIDAL's. 

Conclusion
The owner of the Piano Cera will in most cases close the chapter "loudspeaker", because with its flexible room adaption for almost all rooms - whether small or bigger ones - this transducer let speak the music itself.

Dr. Frank Lechtenberg, Hifi-Stars
1. September 2011
Capitol Audio Fest 2011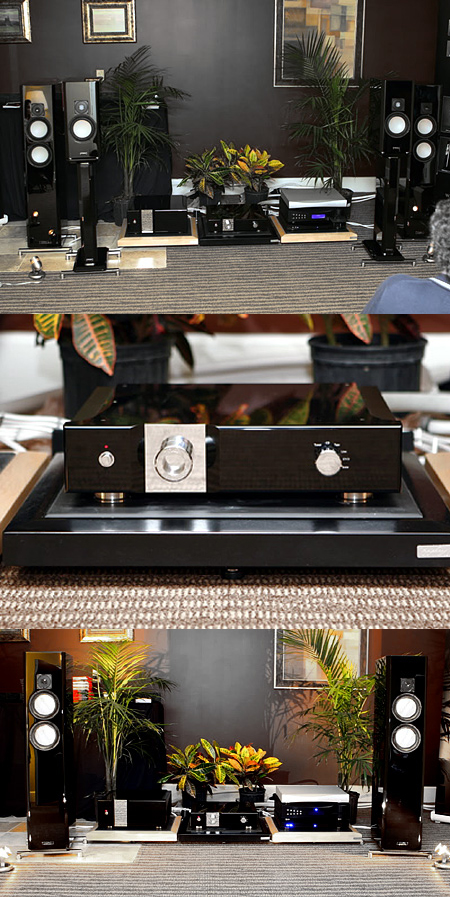 "... 'The Voice That Is' is the name of a Newtown Square, PA, retailer and when I walked into their room, I had no idea what equipment I was listening to, as it was - again - totally dark!

But the music playing, Stevie Ray Vaughan's "Tin Pan Alley," took me back a quarter century, when all you heard at audio shows was this cut. But it never sounded this good back then!
As my eyes accommodated to the darkness, I could make two pairs of TIDAL speakers, the floorstanding Piano Diaceras behind stand-mounted Ameas. Both feature ceramic-cone woofers and a diamond-dome tweeter but it was the Diaceras that were playing,connected with Argento cable to a TIDAL Impact 140Wpc stereo amplifier and a TIDAL Preas preamp. Source was a MacBook Pro feeding USB data to a dCS Debussy D/A. 

As if to confirm that it was 1987, the next track played was "Le temps passé" from the Michel Jonasz CD L'Histoire de Monsieur Swing. This is what I am talking about - a huge, stable soundstage, extending way beyond the speaker positions; smooth, grain-free highs, tight, tuneful, deep lows, and a pure, coloration-free midrange - and all of this in service of the music, adding to the experience instead of substituting for it.
It doesn't get much better than this!"
"The room was not just special, it was damn near perfect....
...the decor, setup and gear were spectacular. The sound quality? Absurdly good. Doug White, president of The Voice That Is, totally hit it out of the park with this setup.

The look and feel of this unit, and the matching Impact stereo amp, were truly bespoke. Every exposed surface gleamed piano-black or liquid silver. This is some seriously upscale gear and quite easily ran away with the CAF 2011 Beauty Contest crown.
All TIDAL speakers feature custom-made-for-TIDAL Accuton drivers that were neither cold nor harsh (a criticism I've heard about ceramic drivers generally but still have yet to actually hear in person) but very linear and totally neutral.
While both speakers had a very full sound, the most arresting thing was how they nailed up a sound stage that had pin-point imaging and crystal-clear sonics. Ever heard how reviewers will trot out the cliche about how a given component provides "an open window on the music?". Well, the sound in the TIDAL room is going to make me dig up another one: "What happened to the window?".
1. July 2011
"Technical Elegance: TIDAL Piano Cera" – Review of the TIDAL Piano Cera at UltraAudio.com from Jeff Fritz
"Conclusion: 
The TIDAL Piano Cera is one terrific-sounding loudspeaker. It's transparent and quick, and plays with more weight and depth in the bass than you would ever suspect from a glance at its driver array. In fact, looking at this speaker either on paper or in photos will give you no hint of the performance lurking beneath its rather simple but elegant appearance. 

There is a ton of clever engineering inside, and that technical expertise translates into audible results. I think the TIDAL Piano Cera would be a great choice for someone with a midsize room who doesn't need a speaker that makes a "statement" -- except when it's playing music."

(The full review you can read it of the page of the Piano Cera itself.)
1. May 2011
HIGHEND 2011 in Munich – StereoTimes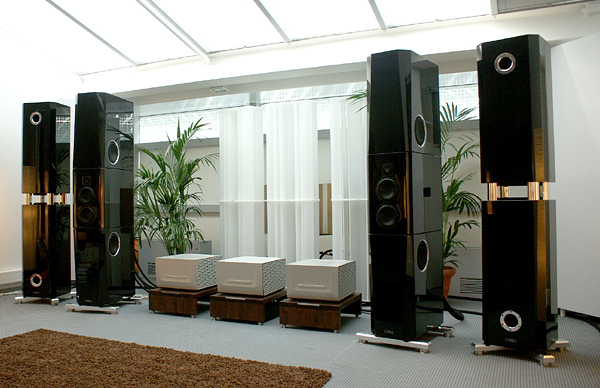 "German speaker company TIDAL and Constellation Audio of the USA teamed up to produce an absolutely stellar sound at this year's show. The TIDAL T1 double-stacked loudspeaker represents designer Jörn Janczak's best. 
Constellation Audio boasts a look and feel that is as wonderful as its sound. This is my first time writing on these electronics because it's really also my first time hearing them. If these pictures don't provide you enough...here's a short video I took also here. "
1. May 2011
HIGHEND 2011 in Munich – SoundStage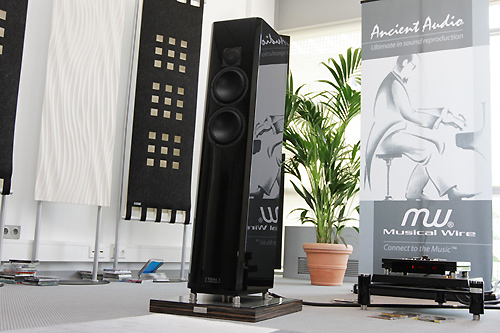 "...What would you say if I told you that the state of the art in loudspeakers can be purchased for half, or even a quarter, of the price you might think? Not really good speakers. Not almost-the-best-you-can-buy speakers. But state-of-the-art speakers. As in better than what was available just a few years ago at crazy six-figure prices! Would you be surprised? Excited? I submit to you that we are in the midst of a speaker revolution. Case in point...
"Priced at 15.500 € per pair, the Piano Cera shrouds its sonic prowess in piano-black lacquer of a quality that is quite uncommon. In fact, the slim proportions easily conceal that this is a 117-pound speaker built quite heroically. 
Even still, there are no exotic cabinet materials and the drivers are made to TIDAL's specs by Accuton, another German firm. That description doesn't sound state of the art. When it plays music, though, is when you begin to understand that this is no plain-Jane loudspeaker. 

With bass articulation and weight that belie its modest proportions and coherence that is nigh-on perfect, the TIDAL Piano Cera is a stark reminder that the underlying design -- not the cosmetic flourishes or the story -- is ultimately what is key to sound quality.
The Piano Cera isn't just different from most other speakers I heard at High End 2011; it's better."
1. May 2011
HIGHEND 2011 in Munich – image hifi
"Visiting the TIDAL room was like taking a bath in music - this describes it the best! One had much better mood when leaving the room then one had when entering it...".
Voted as one of the Best Sound of Show 2011.
1. April 2011
HIGHEND 2011 in Munich – 6moons
"...my clear favorite was the collaboration between Ancient Audio, TIDAL and Musical Wire with the smaller TIDAL speakers organized by Dmitry Valdin of Transparent Acoustic whose banner-type room treatments graced the room's sidewalls."
1. April 2011
Review of the TIDAL Piano Diacera in the magazin 'hifi & records' (issue 1 / 2011)
The renowned German magazine "hifi & records" have reviewed the TIDAL Piano Diacera. In their review the TIDAL Sunray plays an important part as well. The review entitled "Lupenrein" (meaning 'flawless' with reference to a diamond…) will be published in its entirety on our website soon; to whet the appetite, following are a few excerpts:
" ... Janczak completely indulges in his dream of creating the perfect speaker. Nothing embodies that passion as much as the Sunray does. I take a seat in the demonstration room and simply hear music. 
The most amazing thing is the homogeneity of the Sunray's performance devoid of even the slightest trace of strain. It sounded like the perfect two-way monitor, only without any trace of compression and with substantial and deep bass that, on the other hand, leapt from the speakers fast and as light as a feather. 

… To build the finest speaker systems in the world: Janczak is perfectly serious about his quest. And, he's not just talking big, indeed I wonder whether he's not reached that supreme goal already with the Sunray. …In fact, one cannot grasp the "sound" of the Piano Diacera, let alone try to describe it. 
It is the perfect reproducer, communicator, message carrier: whatever is fed into the speaker is projected 1:1 into the listening room.
… Conclusion: I have never heard any speaker that reproduces music any more clean, homogeneous, intact or open than the Sunray - this is under each and every aspect an uncompromising component that also invites and enables the listener to learn. 
What about the Piano Diacera, then? Truly, it should be compared with nothing else but its illustrious next of kin. If the rest of the system is up to the task, the Piano Diacera projects any recording session completely unfettered into the listening room. 
Unquestionably, an exceptional speaker." 

(The full review you can read it of the page of the Piano Diacera itself.)
4. January 2011
TIDAL was exhibiting at the CES 2011 in Las Vegas
"Germany's TIDAL Audio proudly displayed the Sunray loudspeaker, an assault on the state of the art. 
The TIDAL Sunrays are simply beautiful-sounding loudspeakers. 

I heard two pairs of Sunrays at CES 2011 (they were playing in two different rooms), and their strong points were clear: holographic soundstaging, three-dimensional imaging, and seductive musical subtlety, particularly in the high frequencies.
I was struck by how much depth-of-stage they could reproduce; they made me want to get out of my seat to mingle with the performers."