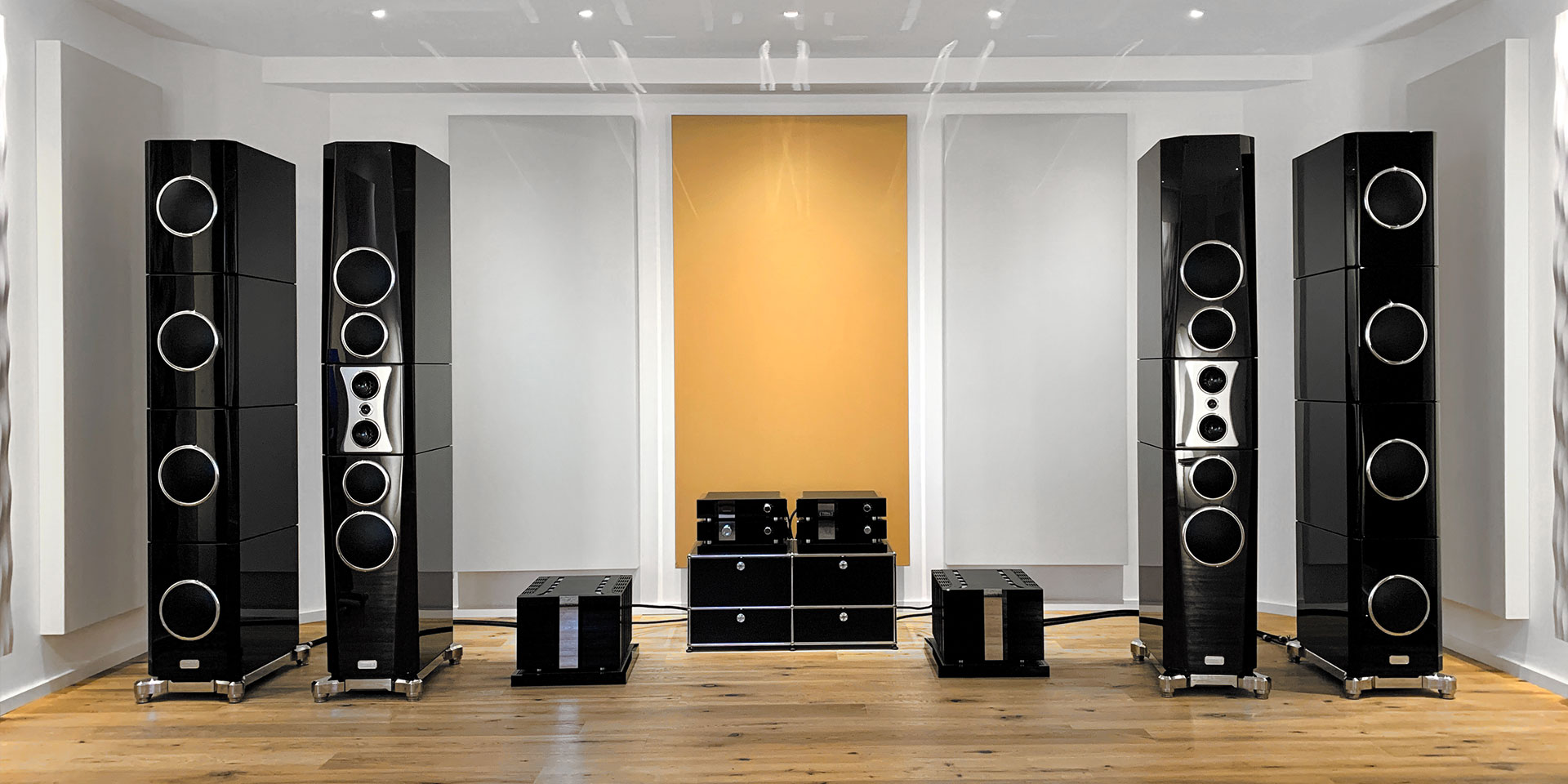 1. May 2014
HIGH END 2014 – HIFI Statement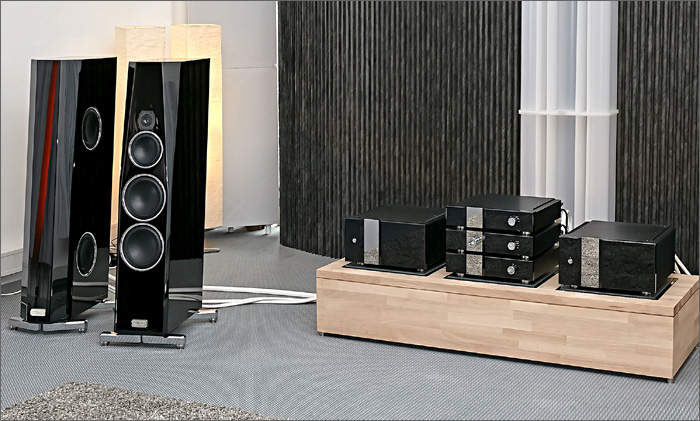 "Spectacular was the TIDAL room. These products are nothing but top, top, top. The finish, the design and all the used parts. The new Contriva G2 is being supported by the also new Contriva X-Tender in this setup. The music sounded completely effortless, extremly clear and with the most natural sound."
1. January 2014
AUDIO ART Magazine rewarded the TIDAL Agoria with this award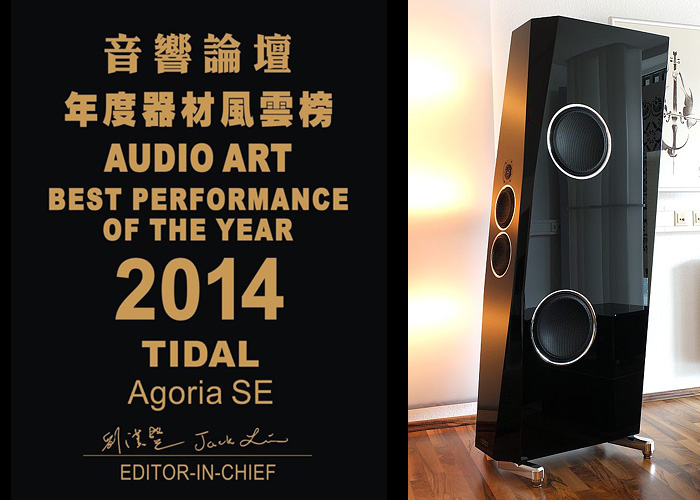 AUDIO ART Magazine rewarded the TIDAL Agoria with this award.
1. December 2013
BEST PERFORMANCE AWARD 2013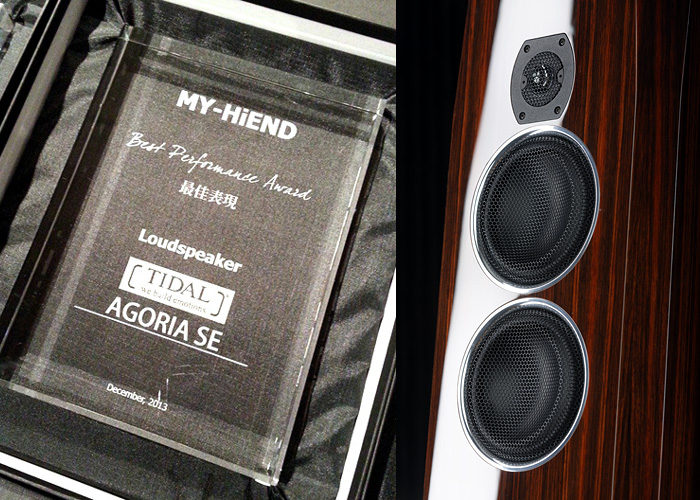 MY-HIEND has rewarded the TIDAL Agoria with a BEST PERFORMANCE AWARD 2013.
1. November 2013
TIDAL at the Hanoi Audio Show 2013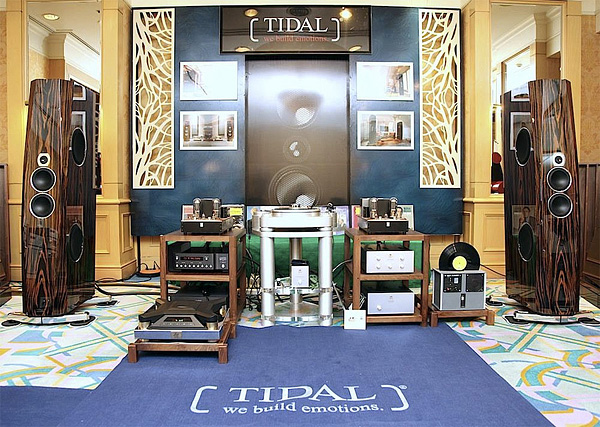 TIDAL had its premiere in Vietnam. Given the easy load and efficiency of the Agoria, this setup was a nice and praised match: TIDAL and the tube amps of Audionote / Kondo.
1. October 2013
TIDAL at the RMAF show USA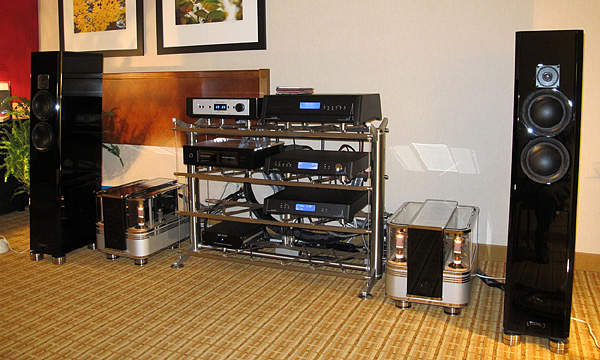 The Absolute Sound / Jonathan Valin:
"Speaking of superb two-ways, …….TIDAL's gorgeous two-way Piano Diacera floorstander….:  The sound was truly gorgeous, with Saint-Saëns' Danse Macabre simply phenomenal through the TIDALs and the Aurender/dCS source. This was another Best Sound of Show contender: extremely sweet string tone, superb depth and resolution, and fantastic bass for a two-way."
Best Sounding rooms "cost no object" 6moons.com:
"…True to TIDAL's advertising, the coherence of these speakers is beyond reproach. It almost sound like a single driver, but better. The system had real purity of tones and an almost gilded loveliness to it. The decay of the piano on the Radka Toneff "The Moon is a Harsh Mistress" cut seemed to go on forever. This was intoxicating sound."
 STEREO Magazine (Germany) 
"...TIDAL Piano Diacera made a sound that pulled the listener literally into the music. The sound was super, one of the best of the whole show. Maybe Germany got the gold, silver and bronze medal at this show".
1. September 2013
TIDAL at the Capital Audio Fest, USA
Confessions of a Part-Time Audiophile.com 

"The sound that's capable of coming out of this speaker has the most detail and the most delicacy and air that I've heard coming out of a loudspeaker. Ever. Of course, I've gotten to spend quality time with this particular pair in the past (nudge nudge, wink wink, say no more!). And, in the right room and with the right … well … everything … the Sunray can do a dance like nothing I'm familiar with. It's not just breathtaking, it's astounding. 
…the sound … wow. So spacious and deep, the soundstage like some kind of ripped-away hellscape, with the edge of the abyss starting just at the leading edge of the speakers, and then spinning away from there into an eternity of hopelessness and despair. That was almost as fun to write as it was to listen to."
1. August 2013
TIDAL at the Hong Kong Audio Video Show 2013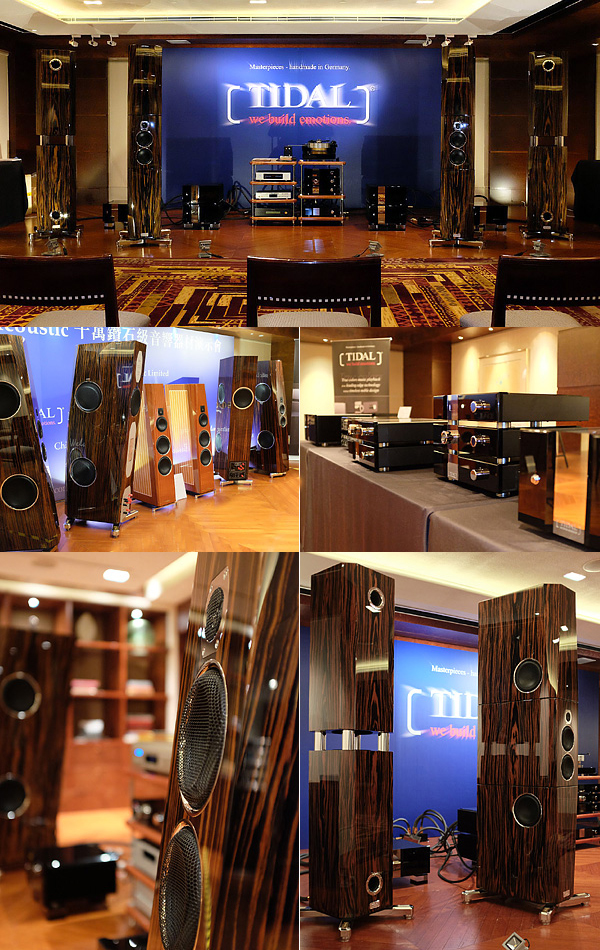 TIDAL was exhibit in the exclusive penthouse area within three big rooms.
Voted from many as the best rooms at the whole show we were playing as world premiere the 1.3 tons heavy new Sunray G2 fully active with 6 x Impulse Monobloc amplifiers, TIDAL Presencio and LPX. Also we showed a system made out of the TIDAL Agoria, Impulse LPX and Preos-D.
This was the very first time showing the new T1-System. Gentle evolution of the unique Sunray concept, instead of revolution. The major differences are: 

-  the complete cabinet is made out of TIRALIT now, the result is a massive gain of weight and performance
-  all new BCC-drivers, all new cross-over design, complete new terminal design, the speaker did grow in height 6 cm, in width 1 cm and in depth 2cm
-  improved efficiency and many many details more

Much more details and the official launch will be end of the year.
1. May 2013
HIGH END SHOW 2013 in Munich – the absolute sound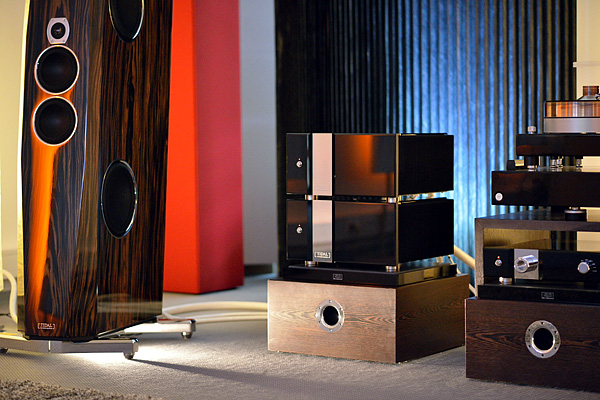 "Germany's TIDAL was showing its gorgeous Agoria SE mulitway floorstander with black ceramic drivers and diamond tweeter, as well as debuting its own TIDAL electronics alongside a Hartvig table. Though strings and winds were sugar-sweet at moderate levels on Tacet's great recording of Ravel's La valse, when the SPLs went up (and they do go up on this LP), the sound became a bit piercing. Also, bass was not as deep as it should have been on this spectacular disc. Seeing that I just heard a much more demure TIDAL speaker sound fabulous in Chicago, I concluded that something was wrong and decided to return later in the show. 
I'm glad I did, because some days later I found the speakers sounding very lithe and lively on vinyl — superb on Keb Mo's voice with phenomenal guitar transients and color. The Agoria also now managed perhaps the best reproduction I heard of Rapsodie espagnole from The Reiner Sound, reproducing all its sweetness as well as its power and phenomenal inner detail. 
Best of Show: ...TIDAL Agoria SE / TIDAL Electronics system (on Day Three)."

Jonathan Valin
1. May 2013
HIGH END SHOW 2013 in Munich – press feedback
"At the German brand TIDAL, builder of speakers and amplifiers, I have also been a lot of attention in my report of the Top Audio Video Milan (2011) in various show reports from the High End and rightly so because they know every time excellent listening demonstrations to take care of. This year they have come to Munich with the Agoria SE speakers, the model which is derived from their impressive man-Sunray / T1 system and as a world premiere, their new "Impulse Monobloc's". This year it sounded again wonderful and we can counting TIDAL again as one of the best sets of the show." (Audio review.nl)

"The demonstration of the ultra high end specialist TIDAL was one of my highlights of the show, the overall performance was maybe even "Best sound of show". Highend at this level one can almost never experience at a dealers place. What is also given to the fact that TIDAL is playing at the super territory in terms of the price. The overall price of this system probably was over 300.000,- €. But someone who is spending so much money also gets delivered a lot in this particular case.
With this system, played with analog source (there is a digital TIDAL source too) was really nothing to complain about: no matter Pop, Rock, Classic or Jazz, all was perfectly balanced. It started with an extremely clean and dry bass (cattle drums for e.g. sounded very powerful but not boomy), with almost explosive dynamics, the most subtle and extreme resolution and a stage that - other than often claimed - really IS realistic. A big soundstage does not happen simply by zooming instruments and voices all big up, but by giving them correct room informations and reproducing the event with clear separation. All this sounded just great and shows what one can do today." (Frank Armbruster, Culture Journalist, Germany)
1. May 2013
HIGH END SHOW 2013 in Munich – fair audio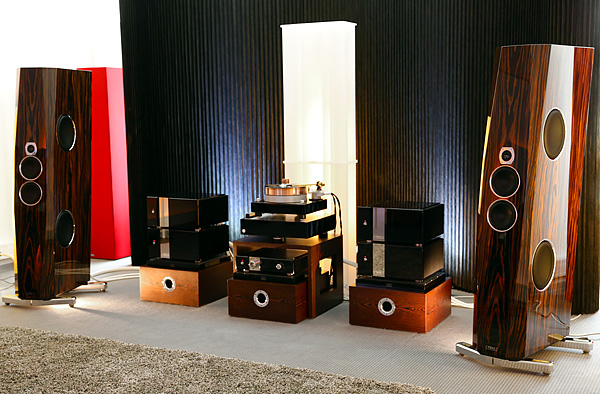 "TIDAL for e.g. showed how one does present big speakers. With its 1,70 meter height the Agoria looked with its beautiful proportions extremely elegant. And this is also how the whole system sounded like: while other exhibitors tried to catch attention with fat boomy bass, the TIDAL Agoria convinced with subtle sophistication. It sounded extremely neutral, precise, dynamically very agile and exact, which was compared to the other show demo's a real blessing. And the sheer resolution capabilities of it may be even unique."