1. November 2014
TIDAL at the Manila High End Show PHILLIPINES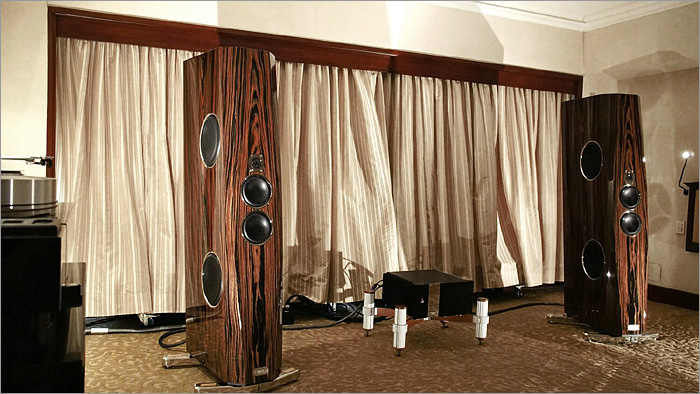 Presented was the TIDAL Agoria, TIDAL Impulse and TIDAL Preos - D with both digital and analog sources.
1. October 2014
TIDAL at the Toronto Audio Show (TAVES) in CANADA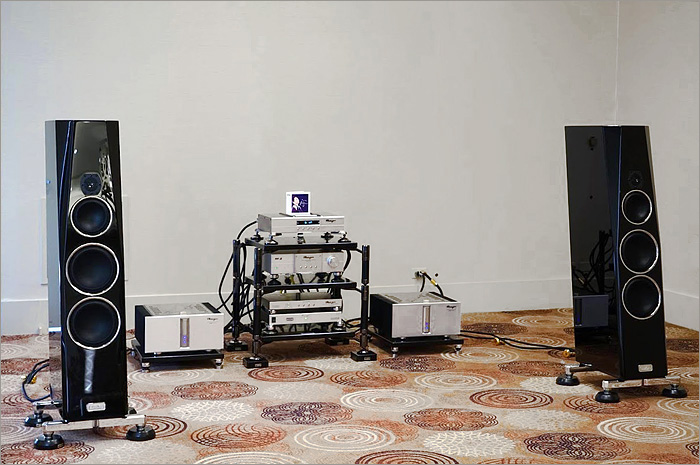 Presented was the all new TIDAL Contriva G2.
1. October 2014
TIDAL at the HIGH END Brussel Show in BELGIUM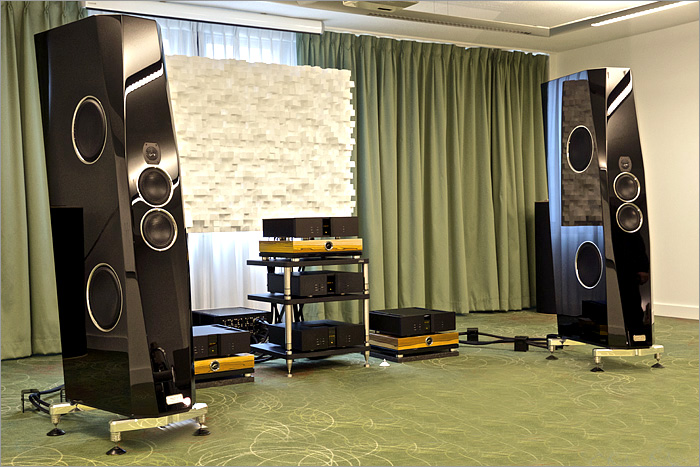 Presented was the mighty TIDAL Agoria.
1. September 2014
TIDAL at the 18th Guangzhou International High-End Audio Visual Show 2014 in CHINA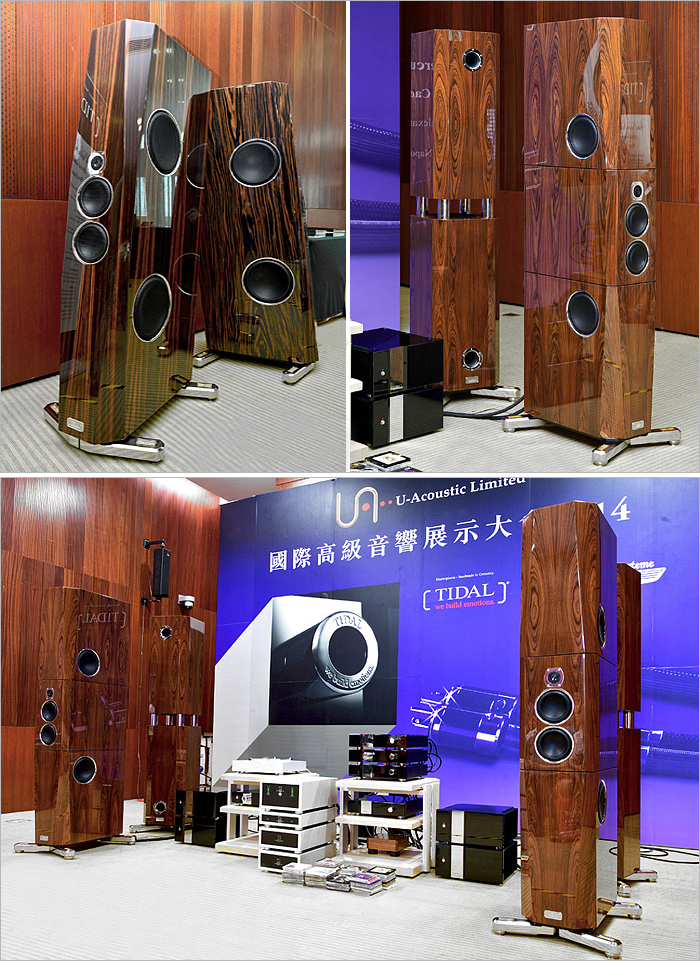 Presented was a complete T1 suite in Rosewood piano finish, powered by TIDAL Presencio, TIDAL LPX and TIDAL Impulse Monobloc. On static display was the TIDAL Agoria in two different veneer versions in piano finish.
1. July 2014
TIDAL at the Capital Audio Fest 2014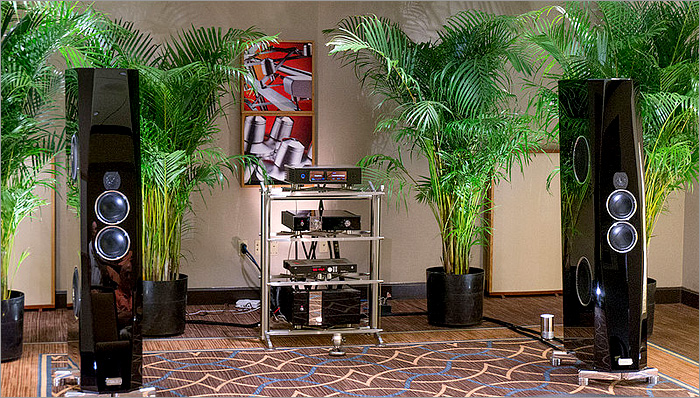 Stereophile.com
"...the musical presentation was no less than a revelation to my ears. I simply have never experienced this outrageous level of audio transparency. I seldom give much of my music listening energy to imaging and soundstage, but the scale and continuity of the space projected by the TIDAL Audio Agoria loudspeakers was among the best I have ever experienced."

HifiLogic.com
"I then went closer to inspect the exquisite finishes of the TIDAL Agoria Speakers, Preos preamplifier and Impulse power amplifier. The finishes were just out of this world, there is nothing perfect in this world of ours but, these finishes from TIDAL were super close to perfection. Doug then told me to touch and turn the volume control of the Preos preamplifier. I kid you not, my jaw did not drop but literally fell to the floor.... Of all my years in high-end audio, I have never had such "high" from turning a volume control knob. As the saying goes "Smooth As Butter" but this experience was "Smoother Than Butter" that was how that volume control of the preamplifier felt at my finger-tips. TIDAL Audio truly does take care of details and it makes great music. Wow!"

Parttimeaudiophile.com
"The finish on these speakers is so far past "piano black", it makes most speakers look like they were doodled on by a kindergartener. I've honestly seen nothing like it, and after talking with a professional piano restoration expert, apparently not many folks have - especially not piano restoration experts. It's unbelievable. The build quality overall is appallingly good and the attention to detail is likewise fanatical - take, for a random example, the faceplate, which is 4mm thick and counter-sunk into the fascia to a depth of 3mm. Who does this kind of thing?"

Audiophile.com
"Heading into the TIDAL Audio room, I was faced with their gorgeous and large Agoria Loudspeakers. TIDAL also makes electronics — the Preos Preamplifier and Impulse Amplifier. Both were singing fabulously through the Agorias. I have never heard such specific imaging and accurate timbres from so large a box speaker. Trumpeter Wynton Marsalis' growls coming from backstage left made a significant impression. Scarily good, with razor sharp dynamics. The Agoria is a magnificent loudspeaker and it's worth your time to seek out a dealer. Those Germans! Isn't it enough to make the world's best cars and win the World Cup? 
At, 105K, the speakers chosen as Best Sound of Show should be good. And, they were. TIDAL Acoustics magnificent Agoria Loudspeakers have dynamics par excellence, real heft in the bass, and a wonderful soundstage, but it was the timbral accuracy and imaging that really wowed me. Sublime. The accompanying electronics, also from TIDAL drove the speakers easily. So bloody sexy."
1. June 2014
TVTI presents a TIDAL System at AV-Showrooms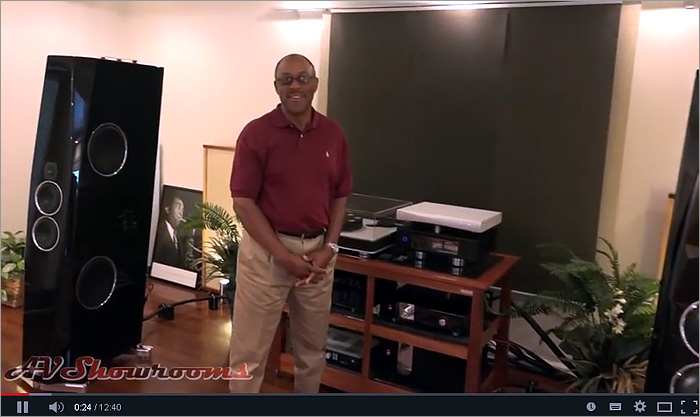 TVTI presents a TIDAL System at AV-Showrooms
http://www.youtube.com/watch?v=YXMLbp4Zrsc
1. June 2014
TIDAL"Nautic Edition"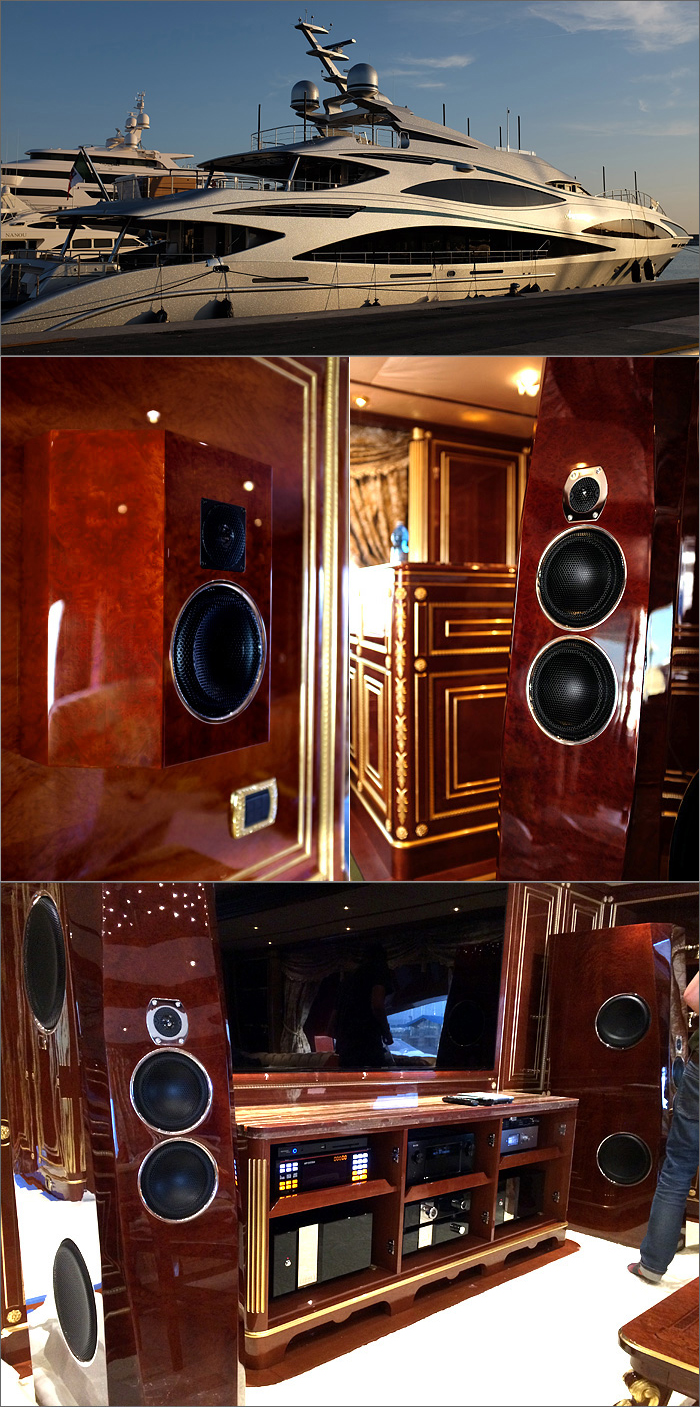 TIDAL installed a high end multi channel system on a 47 meter yacht. There were several challanges to manage to make it happen. To fulfil the client's dream we built a TIDAL Agoria as mainspeaker with a special cabinet in "Super Leggera" edition, to bring down the weight at least from 240 Kg to 170 Kg. The speaker is mounted with a special construction ultra stable with the ship floor itself.
The surround speakers on the sides and ceiling where costum made to the particular wishes, and as amplification we use the TIDAL Presencio LS and TIDAL Impulse Monobloc's. Well, this is indeed some pretty fancy audio system for a boat, but what lucky guy one must be to enjoy a TIDAL system even on the ocean....
1. May 2014
HIGH END 2014 – press feedback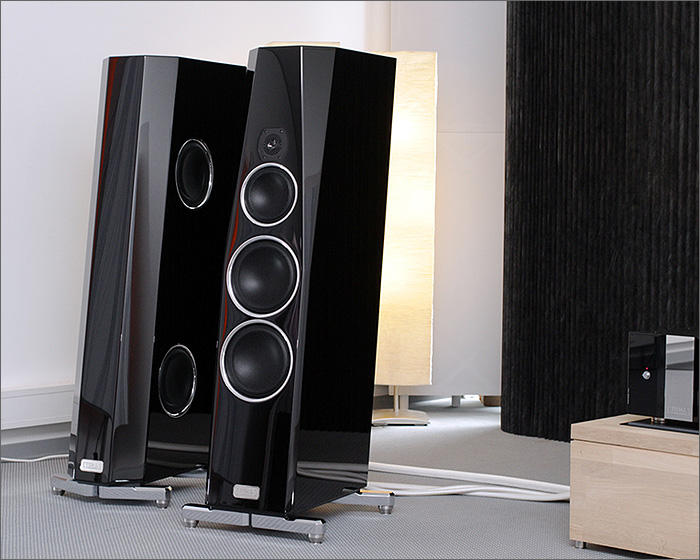 Partimeaudiophile.com
"Let's see what we have on the 'excellent sound check list':
- At least a three-way design able to cover top to bottom extension: check.
- High quality drivers with low weight cones, able of fast transient responses: check.
- Big/Enough drivers capable of going down to 20Hz: check. 
- Darth Vader looks, only way more polished and chic looking (or even sick looking): check.
Dark Vader Yes, it's the TIDAL Audio room that I am talking about. These speakers were the most elegant ones of the entire show, and by a long margin. If I had the time I would have spent an entire day just staring at them. In house electronics were even more on the Darth Vader style with piano black faceplate and silver knobs.
TIDAL brought the new Contriva G2, a three-way four driver speaker and paired it with the also new Contriva X-Tender, a six driver floor stander sub-woofer of the same proportions and finish. All drivers are built in collaboration with Accuton on TIDAL specifications and remain unique as Accuton provides these units to TIDAL only.In house electronics included the new Presencio DAC preamplifier and two Impulse power amplifiers equipped with LPX active crossover modules for perfect phase and frequency response of the X-Tenders.
Did all this translate into music? Definitely yes. I heard the deepest, more sensual "Besame Mucho" (and I let you guess which well-known female singer was it) of the show. Interesting enough, even with all those bass drivers the system was not bloated; it actually presented a balanced and coherent reproduction. But this is a HiFi show report and not an art gallery report."

Soundstageultra.com
"The G2's reproduction of space was outstanding, with an ethereal quality that completely transformed the rectangular listening room. The sound was quick, perhaps a trait of the Accuton drivers, but there was also good weight in the bass - something I've heard lacking from some designs that use Accutons, so TIDAL must be doing something the others don't. The diamond tweeter was very well integrated into a whole - music sounded decidedly of a piece. All in all, a great showing from the folks at TIDAL."
1. May 2014
HIGH END 2014 – HIFI Statement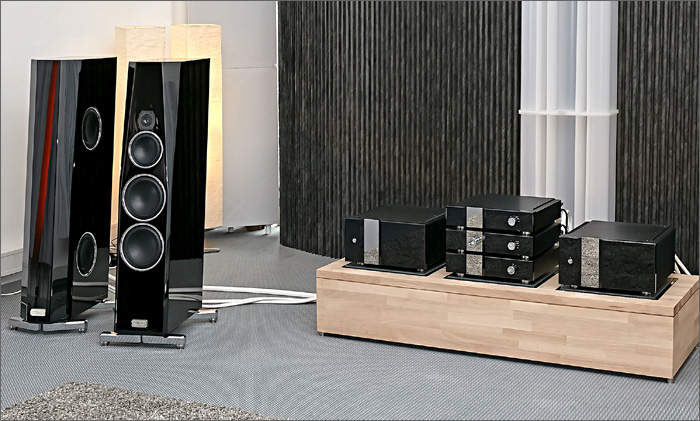 "Spectacular was the TIDAL room. These products are nothing but top, top, top. The finish, the design and all the used parts. The new Contriva G2 is being supported by the also new Contriva X-Tender in this setup. The music sounded completely effortless, extremly clear and with the most natural sound."
1. January 2014
AUDIO ART Magazine rewarded the TIDAL Agoria with this award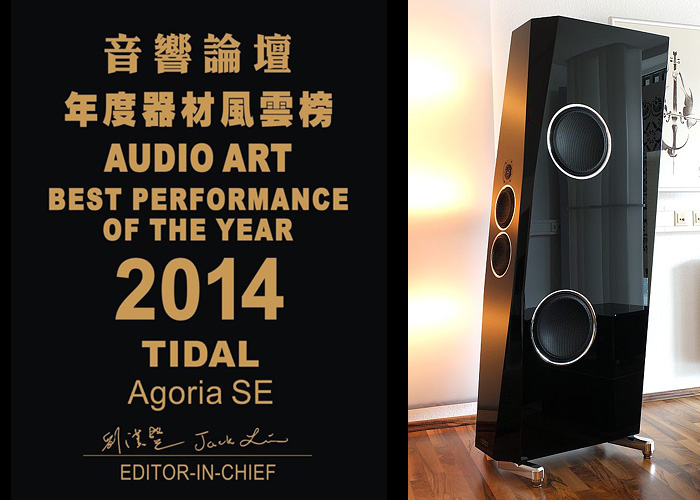 AUDIO ART Magazine rewarded the TIDAL Agoria with this award.