4. January 2011
Stereophile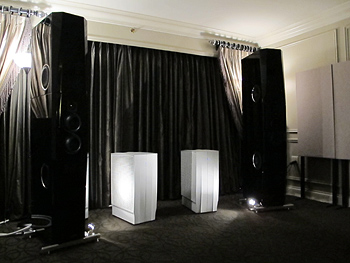 "..."Go check out the Constellation Audio room," said Jon Iverson. So I did. As I entered the room filled with unworldly looking gear I spied Michael Fremer, engrossed in one of his famous mix CDs, burned from his vast vinyl collection. Michael, ever the gentleman, relinquished the sweet spot to me and both of us took in some big, clean, transparent sound. Driving a pair of TIDAL speakers was Constellation's Hercules amplifiers, which are each able to put out a kilowatt of juice into 8 ohms and runs its first 250W in class-A.
Internally the amps mechanically float the sensitive signal carrying parts. That attention to vibration damping could be heard as stillness and ease, particularly when I played a high-resolution file of Robert Silverman playing the final fugue from Brahms' Variations on a Theme by Handel. My time in the Constellation room was stellar."
4. January 2011
Stereophile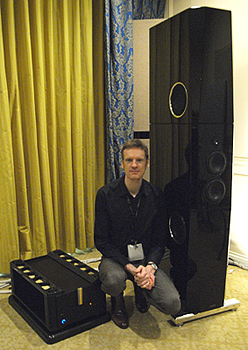 "In prior Show reports, we have photographed TIDAL's Jörn Janczak standing next to his speakers. But as Jörn stands 6' 8' in his socks, I made him crouch by the Sunray. So you can get an idea of how big this bi-amped speaker really is. 
As at the 2010 CES, the rest of the system included two BAlabo 500Wpc stereo amps, and the BAlabo BD-1 24/192 DAC. Preamp was the BAlabo BC1 and the source was the Blue Smoke music server. Cabling was by Argento. 

I listened to a recording that many were playing at CES, piano/bass/drums jazz from the German Tingvall Trio, and was impressed by the effortless sweep of full-range sound produced by this admittedly very expensive system. "
4. January 2011
The Audio Beat
"Next we walked across the hall to hear the TIDAL Sunray. Electronics were from BAlabo -- I'd never heard them before. 
Again, we were treated to a sonic presentation that was fully the equal in quality of the two previous rooms, with bass that was deep, powerful and tight, a midrange that was palpable, and a top end that was clear and delicate."
4. January 2011
Top performing system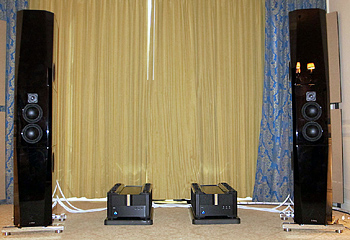 "The TIDAL Sunray (including the active x-over "TIDAL LPX" and internal passive pure silver foil crossover) and BA Labo electronics were another top performing system. Used in this rig were the BA Labo DAC BD-1, Control Amp BC-1, and Power Amp BP-1 MkII. The Sunray is an amazingly controlled speaker for its vast size and in a smaller environment.
I enjoyed both the Constellation and BA Labo electronics with the Sunray, but both systems were extremely pleasing. The Sunray was one of my top three large floor standing speakers at both shows.